🇺🇸 Techonomics #16: The Common Tech Denominator; Airbnb's Mind-blowing Comparisons; China's Digital Currency; Amazon's Daily Hires
How the US can learn from the EU's consumer protections, how Airbnb's comparison to traditional hotels is mind-blowing, and a reminder to get out and vote!
Welcome to Techonomics
I'm Jake and welcome to our 16th week of technology industry analysis. We now have 2,576 subscribers who get this newsletter delivered directly to their inbox weekly. Thank you for all of the support!
This week
Today is election day in the United States. We have some great reads, and I urge you to get out and vote to make your voice heard.
While this is a landmark Presidential election, there are many items on the table outside of the Presidential race that have an impact on technology, free speech, and the power of platforms. No matter what your views, coming together as one to vote with our beliefs is how we maintain our democracy and influence important topics that impact our everyday lives.
First time readers
Techonomics is a weekly newsletter exploring the intersection of technology, business, and the economy from an engineer's point of view. We will deep-dive into tech industry news, including niche news that may fly under the radar. Content and commentary to help make sense of the technology sector.
Also, take a dive into a few of my previous essays to get a sense of what you'll find week after week:
Enjoy!
— Jake
---
One longer take
🇪🇺 Effective tech legislation: Taking a page from the EU
I've been doing a lot of thinking recently on the Section 230 hearing this past week with Jack Dorsey (Twitter), Mark Zuckerberg (Facebook), and Sundar Pichai (Google). If you haven't watched the hearing, or at least seen a summary, I would start here.
If you have a general idea of the hearing, Section 230, a 1996 landmark law that helped to protect and grow internet platforms like social networks, ISPs, and search engines, is being questioned once again after a flurry of activity from Facebook and Twitter concerning politically biased censoring of officials like Donald Trump. We talked more about this in👩‍⚖️ Section 230, the Senate, and Understanding the Internet a few weeks ago, and why the complete removal of Section 230 is a bad idea and augmenting it to better hold internet companies accountable can lead to devastating consequences.
This week's hearing though felt like another spectacle instead of truly diving into Section 230. From my previous article:
While I have cynicism and a belief that a spectacle like this hearing will not result in much more than a partisan debate about how these companies wield power in the fight for misinformation, I do fervently believe that the fact that Section 230 is being questioned is yet another example of a lack of understanding of the foundations of the internet and how it impacts more than just the Big Tech giants. It's a response to the recent content moderation practices by Facebook and by Twitter that have tripped a wire of political and regulatory scrutiny over the power of these platforms, and are dragging the spirit of the law and its impact on the broader internet along.
This hearing didn't disappoint that prediction. It felt like another chopping block for the tech CEOs by congressmen and congresswomen about their actions and the recent content moderation on Facebook and Twitter, specifically the NY Post debacle. While I do believe that content moderation practices and flagging misinformation is better for society at large, I also believe the need for Twitter and Facebook to be transparent about why certain items are taken down or flagged is important.
Regardless of that belief, what is happening in these public hearings of these top tech CEOs and antitrust allegations close to an election is too much of a spectacle for what it needs to be. The entire hearing barely touched on Section 230. What makes this so frustrating is that we aren't making legislative progress that is apolitical. Democracy requires many inputs to problems and a general alignment with public opinion, but this type of display without getting to the heart of privacy, free speech, and internet power feels unacceptable when we look around, specifically at the EU.
Recently, the EU has been pushing on the power of big tech, but in ways that feel productive and generally well-intentioned when it comes to consumer rights, the spirit of antitrust law. A recent example is the EU's push to limit big tech's ability to prioritize and feature its own services. The use of third-party data, like that from sellers on Amazon, by the large tech platforms is a definite advantage that can let them compete and win out for the end consumer by featuring their own services or products during searches. Another example from the EU is their desire for transparency from the platforms and how they want to put requirements into law under the Digital Service Act to ensure consumer safety, Both of these are hard to argue with, specifically that they are pushing heavily on consumer-focused legal changes without putting these CEOs on public spectacle.
We will see how the EU changes work out, not only because "time will tell" but because of the Brussels Effect. From Newsletter #13:
🇪🇺 The Brussels Effect: Last week there was an announcement of the EU cracking down on big tech, again. This week I came across a Northwestern University School of Law 2012 paper by Anu Bradford, the author of The Brussels Effect: How the European Union Rules the World, which is the foundation of the book which shows the underestimated global power of the EU through their exercising of regulation and institutional standards which influence the rest of the world through a "common denominator". Companies that follow the EU laws and regulations follow it as the de facto standard for all markets. Super salient read if you are in technology dealing with GDPR and other privacy standards from the EU. (link)
While I don't always agree with the legislation being put into place, the EU laws create this common denominator effect whether we like it or not, and drive change for the United States legislation. While we may see that change as the election comes to a close, we will have to rely on our EU partners to work reasonably with the big technology companies and protect consumers without partisan showmanship.  If the US legislation really wants to drive change with big tech, we should take a page out of the EU handbook and actually work with these tech CEOs to put in legislation that helps protect American consumers instead of the public spectacle dancing around these important topics.
---
Visual of the week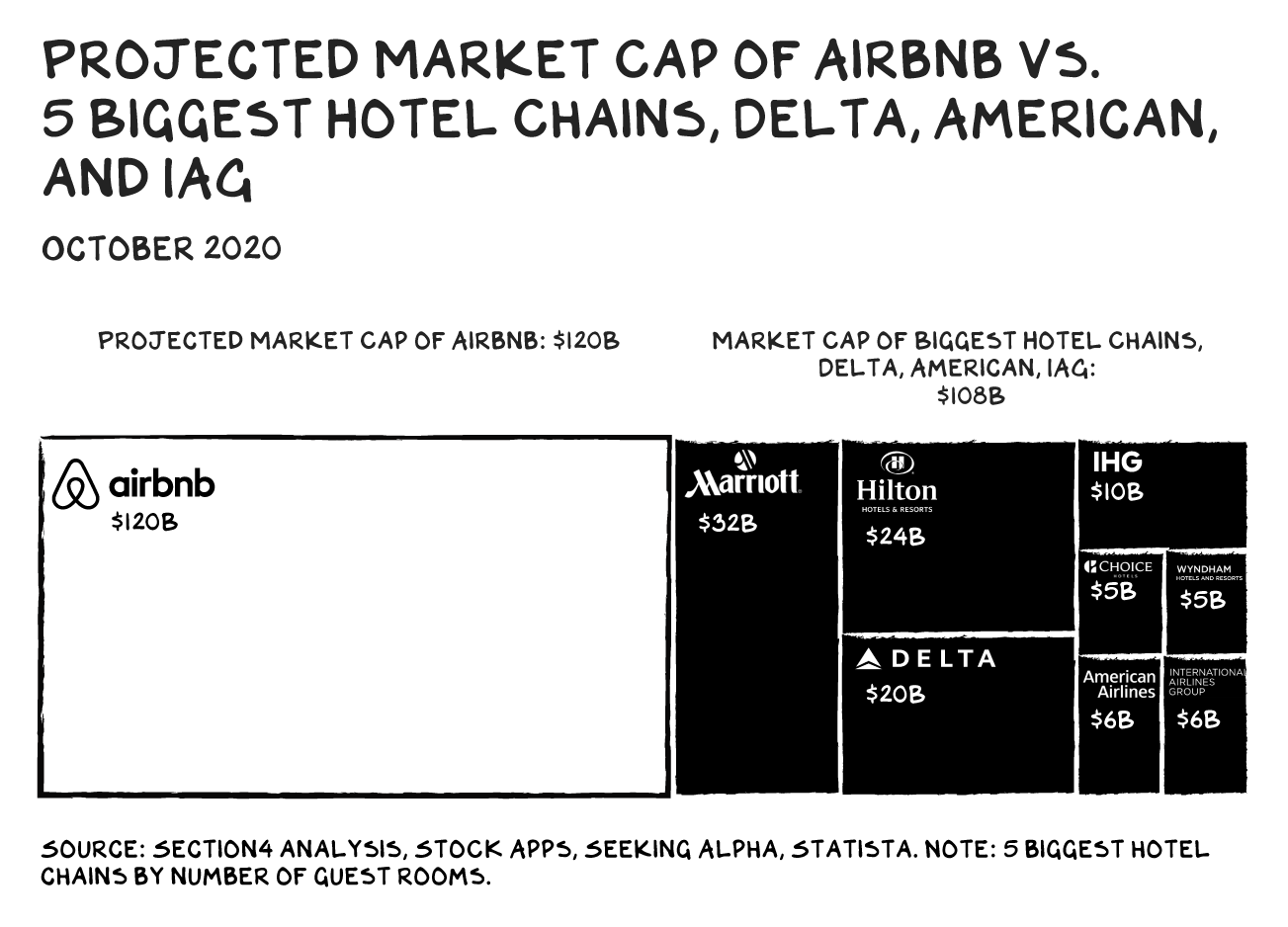 🏨 AirbnBaller: Airbnb is gearing to go public, and I came across this great take from Scott Galloway on the reason why Airbnb is killing it, and will continue to "kill it" as they go public. The above visual is just one reason of many. When you compare Airbnb's projected market cap against the big players, it doesn't look like much of a competition. (link)
---
Interesting reads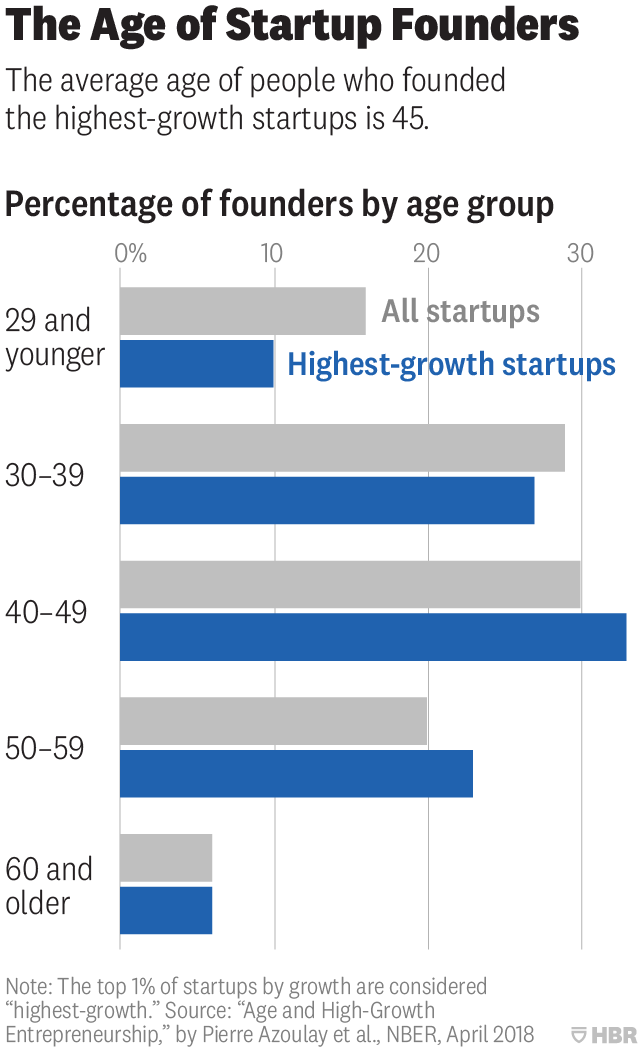 🦾 Don't give up: Many of us look at the best startups and some of the most powerful companies in the world, and we see young entrepreneurs and founders in their 20's who are deemed prodigies. For those of us in our 30's, it's easy to think that time has flown by and that our time to start a successful company is past us, but it's important to remember that the average age of a startup founder is 45 with a rather even distribution across all age groups. What's your next business idea? (link)
🔢 Everyone's a programmer: This is becoming more and more true, at least in the traditional definition of the word. As the younger generations grow up with technology, their comfort level, technical aptitude, and the tools to help support it will unlock a new world of consumer computing. Think about tools like Slack, Excel, and Wordpress that help unlock tools that only developers could build at one time. That shift is moving into other areas of products like Notion (what I use to manage this newsletter content) and Airtable which, in their simplest form, are UI managed databases. Thinking about how to help the new generation will be much different than those not used to computing. (link)
💰 Big tech earnings: Twitter, Amazon, Facebook, Apple, Google, and more announced earnings this week with strong results on average and mixed responses from the Street. (link $)
Twitter had growth, but not enough. Added 1 million daily active users, but that was the smallest increase since 2017. They plunged 17%.
Amazon saw sales increase 37%, but expectation for the holiday season held share prices down 1.5%
Facebook had revenue jump 22%, and we know that's all ads. They were still down 2.6%.
Apple was seeing a massive slump in iPhones, but saw a large increase in services. Still they were down $4%.
Google saw a 32% increase in ad revenue. The winner of the crowd, up over 6%.
🎮 Remote work and remote pay: Reddit announced this week that they would evolve their workforce to be remote friendly and keep pay at 100% of their SF city-dwelling salaries, no matter where you work. Many people ask me, given that I live in San Francisco, what I think about the evolution of work-from-home. My answer is always the same: "Remote work is here to say, competition for talent will still be there, a large majority of people will eventually like to go back to the office, and we will likely see a hybrid flex model." It's always interesting to see what companies are doing given the lack of WFH precedent. (link)
⌚️ It's time for a new default: As we talked about last week, Google's antitrust case is underway. It's narrowly focused on search dominance, specifically deals that make them the default search engine on Apple devices. In fact, searches from iOS and macOS devices make up 50% of all Google searches. In light of that news, Apple may be hedging its bets and actually creating its own search engine. There is ample evidence of this, and this doesn't prove that it's happening, but it's clear Apple is up to something. Could it be, even during antitrust heat? (link)
🤖 Clever GPT-3: Cool breakdown of how to use GPT-3 not to simply take over and write for you, but how it can augment processes and enable writing that better suits an audience. Think about it as a robo-editor that can help you reach your writing potential. Hopefully we don't go too far down the click-bait trap, though. (link)
🇨🇳 Digital sovereign currency: China's central bank is releasing a new digital yuan currency that is aimed at the dominance of the US dollar, not Bitcoin. Frankly, I believe that Bitcoin and Ethereum, the two major cryptocurrencies, have a way to go to be used for anything other than a store of value, however, this central bank idea of digital currency that acts like fiat money is a great move towards digital currency that, while highly centralized, is a move in the right direction to be adopted by the masses. (link)
---
Bites
📈 Amazon's labor army: insane statistic from Amazon… they hired 248,500 people last quarter or close to 2,800 people per day. (link)
📲 Government's iPhone spy: In other words, Grayshift, a company that breaks into iPhones and is raising venture capital to do so. (link)
🧠 Diminishing growth mindset: why our motivation to learn declines with age and what we can do about it. (link)
📈 Up and up: Netflix is raising their prices to bolster their studio content creation. More shows! (link)
💬 How do VCs talk to one another? Best thing I read all week. Check out this VC email exchange shared by my friend at Modern Financial Planning. (link)
☁︎ Keeping up with the Cloud: I really appreciate this newsletter by Jamin Ball that looks at SaaS valuations and earnings announcements week over week. (link)
---
Follow-ups
🐦 Twitter hack, demystified: If you get some time, I came across the Twitter Investigation Report on the recent hack with stolen credentials of prominent political figures, and highly recommend the read. If you take one thing from it, it's that a "hack" isn't always into the matrix. Sometimes it's just some black market purchasing of login credentials and some bad actors. (link)
🏭 Could Intel split? The Digits to Dollars crew wrote a few posts on a topic from 🏭 What's in a chip? Breaking down the Semiconductor Industry: IDMs like Intel may end up splitting their operations for manufacturing from their design business. Their latest dove into how much the Intel foundries are actually worth. Hint: it's a lot, making this an actual possibility. (link)
---
My essays
If you missed them above, check out essays from previous weeks:
See you next week!
---
Disclaimer (full)
Views expressed in "content" (including posts, podcasts, videos) linked to or created in this newsletter, website, posts, or posted in social media and other platforms (collectively, "content distribution outlets") are my own and are not the views of any person, company, or entity I am affiliated with or each entities' respective affiliates. The content is not directed to any investors or potential investors, and does not constitute an offer to sell -- or a solicitation of an offer to buy -- any securities, and may not be used or relied upon in evaluating the merits of any investment.