🍁 Techonomics #19: Happy Thanksgiving, Social Media Mimicry, and a Grocery to Delivery Platform Evolution
Is social media starting to look the same? Also, Instacart deserves some credit.
👏 A milestone this week
I'm Jake and welcome to our 19th week of technology industry analysis. We surpassed the 3,000 mark and now have 3,103 subscribers who get this newsletter delivered directly to their inbox weekly.
This is a personally meaningful milestone. When I set out to write, I didn't realize we'd be near 20 weeks and ~3,000 subscribers. In the spirit of this past week, I am thankful for all of your support. For those of you who haven't yet, feel free to subscribe to follow along.
🍁 Happy Thanksgiving
I hope those of you in the US had a great time celebrating Thanksgiving with their households or virtually with your families. It was a great long weekend to remember that there's still much to be thankful for even in these hard times.
It was interesting to go on a Black Friday bike ride and not see the long lines, traffic, and early holiday shoppers trying to take advantage of the deals. In that bubble, it seemed the shift to e-commerce during this year, unsurprisingly, will be historic as the shopping took place from phones and laptops.
Re: e-commerce — I would love to see how often the shipping address differed from the billing address at checkout because of sent gifts to the recipients location due to cancelled holiday plans. While it won't necessarily be the same holiday season this year, I imagine we will all find a way to celebrate.
First time readers
Techonomics is a weekly newsletter exploring the intersection of technology, business, and the economy from an engineer's point of view. We will deep-dive into tech industry news, including niche news that may fly under the radar. Content and commentary to help make sense of the technology sector.
Also, take a dive into a few of my previous essays to get a sense of what you'll find week after week:
Enjoy!
— Jake
---
Visual of the week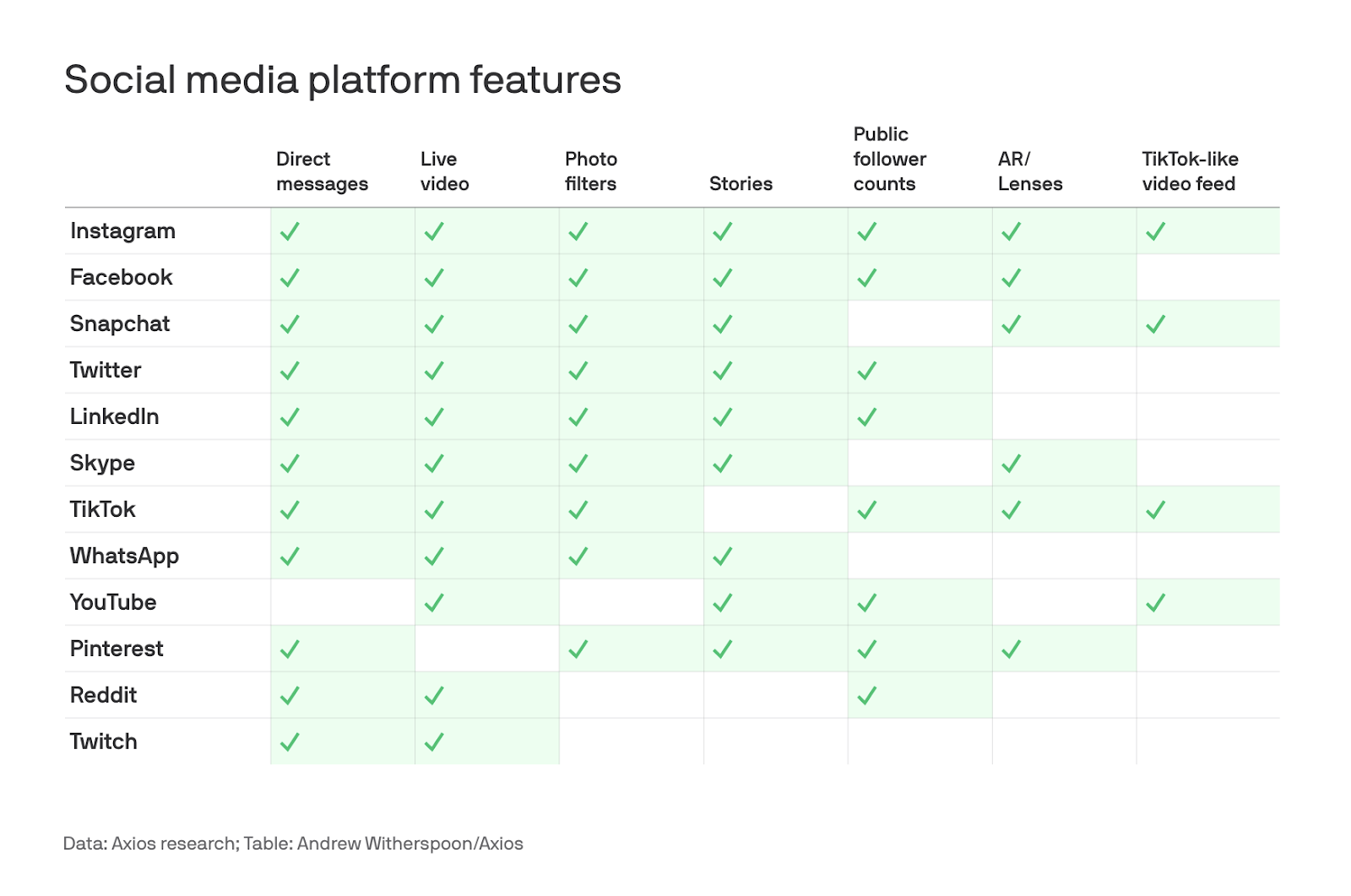 👯‍♂️ Social doppelgängers: Axios reported this week after the launch of Snapchat's TikTok-like feature, Spotlight ($), that social media platforms are more identical in their feature offerings, stating:
As social media companies adopt similar features, expect them to emphasize how their core values shape their versions of those features.
Having worked at one of the large social media companies, this is more than core values. It's about how to enable core communities and content creators with tools to create viral loops to keep users engaged (that sounds worse than I mean to be).
The idea that these companies are marketing these features as representative of core values makes sense, but really it's mimicking features based on what the industry has learned works best for content creator viral loops that power a social network whether that social network is for professionals, artists, or teenagers. In the same way that a word processors like Google Docs and Microsoft Word are made of the same core features, so is social media.
I, personally, would like to see the inverse of this table: what differentiates each platform. Core functionality is core functionality, but it's more about how the pieces are put together, what additional features lay on top, and who is a part of each network. Me writing this on Substack and LinkedIn is intentional. Snapchat can come out with a long-form publishing tool, but I am not quite sure their community is right for me. (link)
---
Interesting reads
💬 Salesforce and Slack: No quippy headline here. Salesforce is looking to purchase Slack at a premium to be announced soon with expected 50% cash and 50% stock in order to round out the communications muscle for its SaaS CRM platform. Slack is a natural fit due to it being a product and platform with a partnership and integrations with Salesforce already. There's also the fact that Salesforce lost out on a bidding war with LinkedIn who was acquired in 2016 by Microsoft, and how Slack is a solid competitor to Microsoft teams. While Slack is still in the losing category when it comes to Microsoft Teams, it being paired with Salesforce integrations would give Slack a major foot-in-the-door with sales and marketing teams who anecdotal rely on Teams over Slack. (link, link $)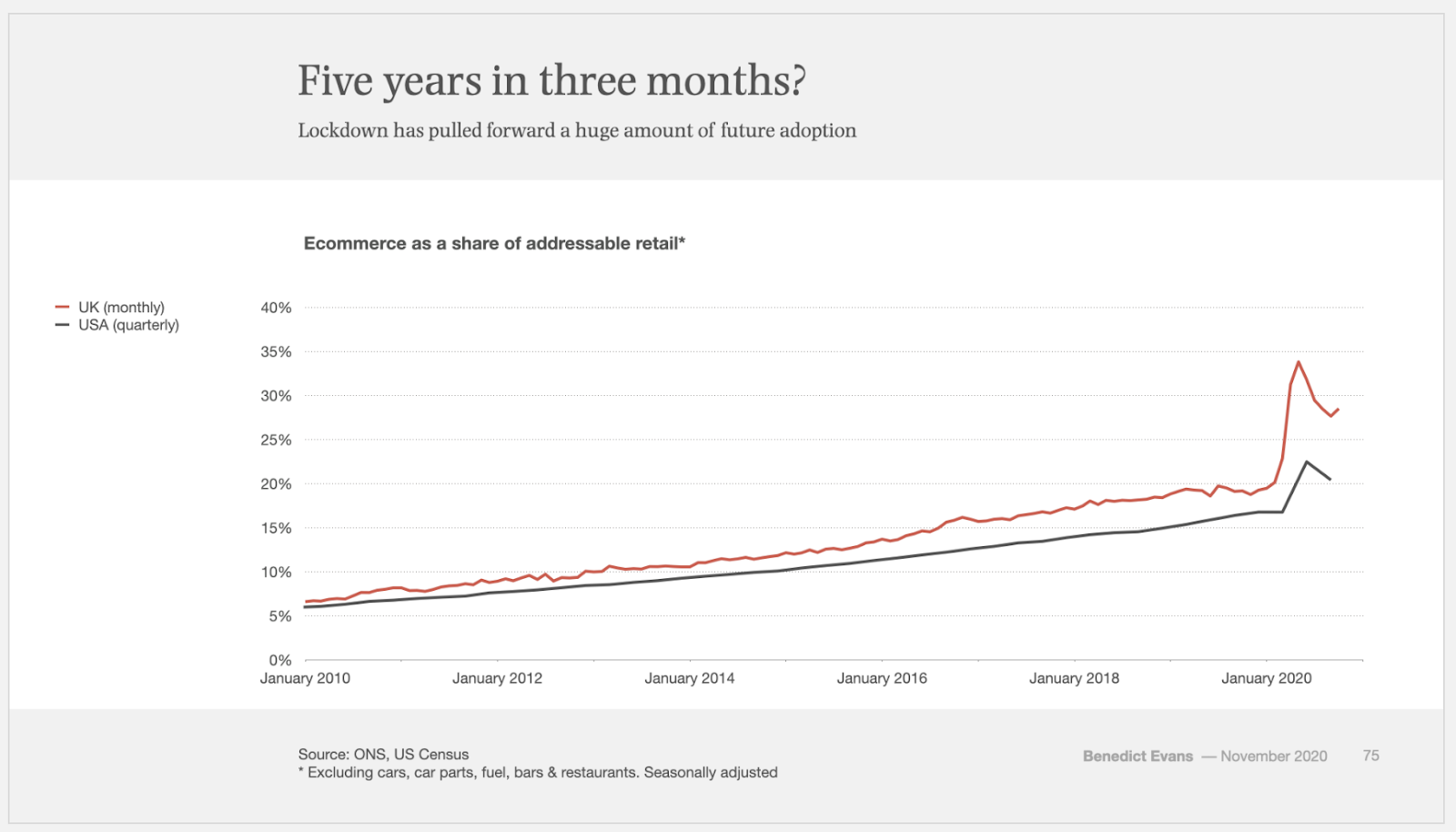 🌙 To the moon: Ben Evans wrote a piece dissecting the UK & US retail sector by e-commerce vs in-store. Seeing e-commerce rise 5% to near 30% of all addressable retail in the UK, and over 20% in the US, is staggering when you look at the trend line. Nothing better than a forcing function to create new behaviors. I am bullish that not only will the behavior stick, but that the consumer experience will keep getting better and better as companies invest in shipping, logistics, and online infrastructure. (link)
🚘 Gig Economy Investment: The SEC has a proposal out that would allow gig economy contractors, like DoorDash or Instacart drivers, to get paid in stock alongside their cash compensation. While this is a typical pattern for full-time employees in startups and major tech companies, these workers don't qualify for SEC exemptions for private company equity. Having been lucky and fortunate to be a part of technology companies in the 2010's, democratizing company equity has huge potential upside for those who may not otherwise have that chance. As long as this is an option and baseline cash compensation allows the gig economy to live and take on equity risk, this could be a big win. (link $)
⛈ The cloud's down: AWS had a major outage last week that impacted one of its 23 regions, but still took down functionality from a number of major customers like Roku, Coinbase, and Adobe. Internet infrastructure is hard, and that same infrastructure with customers all over the world with different types of integrations is even harder. As thousands of software engineers make changes to decoupled AWS systems each day, fault tolerance is difficult to maintain. Whenever we hit an instance like this, it's up to the developers using the service to also make sure that the system can still stand up, which may mean leveraging multi-region or multi-cloud strategies, the first of which will help Amazon's bottom line and the second of which will not. How do you balance between cost and reliability? (link, link $)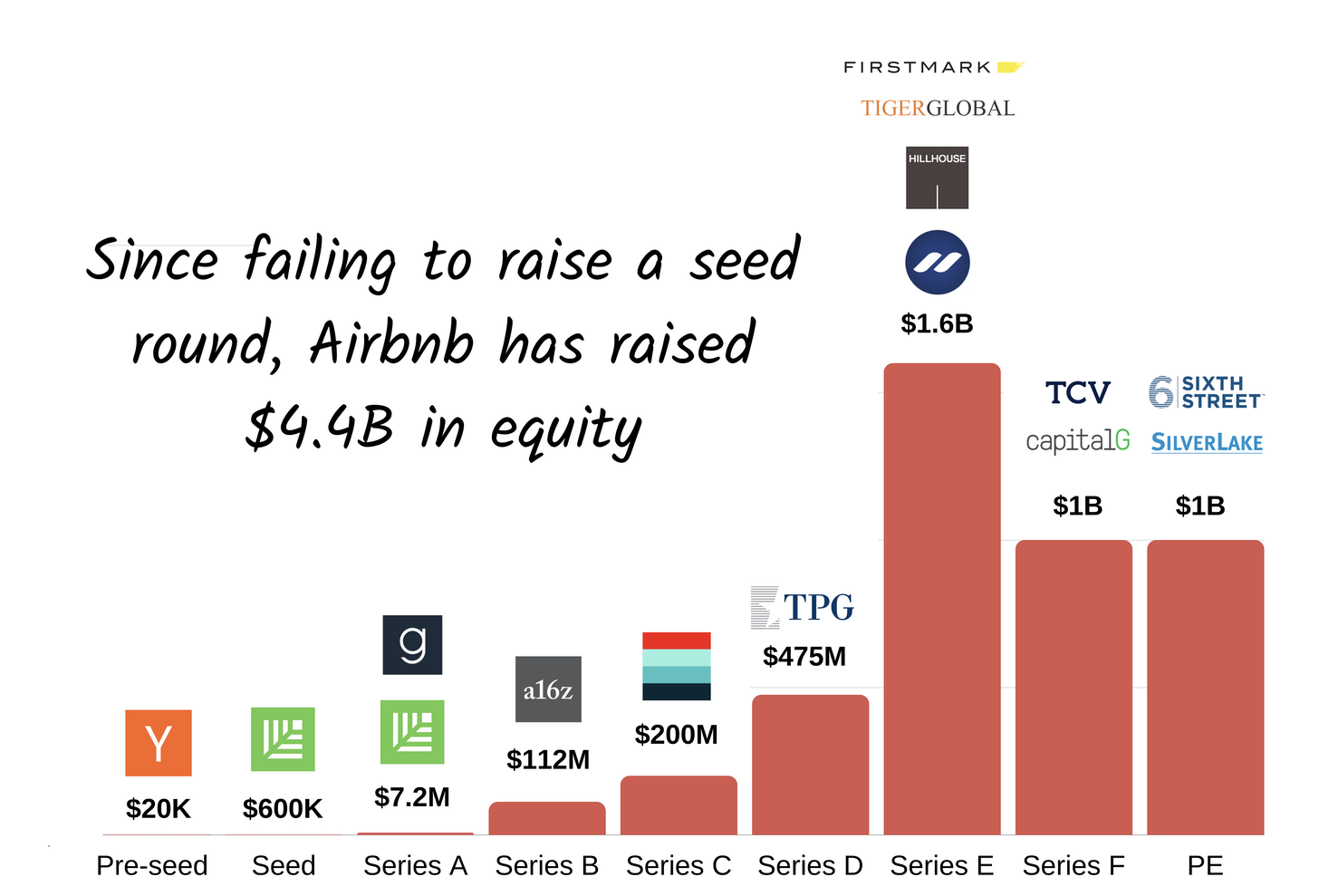 🏨 Airbnb deep-dive: Most of you probably already know that Airbnb is going public this month, which is a long-awaited debut on the public markets. What's interesting is that Airbnb chose now, during the pandemic that's been brutal to the travel and hospitality industry, to go public. While there has been a wave of IPOs, a look into their S-1 says more about the company's future growth potential once things get back to a form of normal. The Generalist, another Substack, takes a look at the full history of Airbnb to give us a better sense. For those of you who haven't heard the cereal story, it's definitely one to read. (link)
---
Bites
🧗‍♂️ What we take for granted: Would you climb a mountain for Internet? (link)
💦 Making a splash: My iPhone (r.i.p) would thank Italy here. (link)
🦈 Are you a seal? Comparing small startups and tech giants to seals and sharks. (link)
📈 IPO Excitement: Airbnb and DoorDash are coming to a market near you. (link $)
♠️ Never fold: DeepMind AI shows that it can predict protein folding into 3D shapes, unlocking a mystery that could help us understand how we humans work. (link)
---
Follow-ups
🕵️‍♀️ Keep your enemies closer: Google is currently in antitrust suit with the DOJ for their tying and elbowing out competition through search engine defaults on Apple devices and browsers like Mozilla Firefox. They pay a lot of cash, about 4% of Apple's revenue and a large majority of Mozilla's, to have that right. For Apple, that's a lot, but something they could give up. For Mozilla it's a different story. While Google's deal with Mozilla helps to fund a majority of that company, they also have Google Chrome, a direct competitor to Firefox, Mozilla's major offering. What might have been a breath of fresh are for Mozilla, the antitrust case is a mixed bag. How do you influence the DOJ to allow you to keep revenue from a competitor while improving competition? (link)
🚚 The last-mile: I haven't given enough credit to Instacart. They aren't a grocery company, but rather, a logistics and shipping company, and it took awhile for me to get there. The news that they are partnering with Best Buy to provide same-day delivery on mostly smaller goods that are less than $500 made all too much sense in retrospect. While Instacart has been working with companies like Walmart for their grocery delivery as well, they have become a platform for anti-Amazon shipping over the last-mile. It's only a matter of time before they begin to expand their shipping network using their own central fulfillment centers like we discussed in 🛍 CFCs, urban warehouses, and the last mile. I can also see a "Ship with Instacart" option at checkout coming at some point. (link)
📈 Bitcoin's ATH: Bitcoin passed their all-time high this past week. There's some contention about what that all-time high number is, but most exchanges gave it the thumbs-up. If you missed it, you can take a look at some of my thoughts in 📈 Ubiquity and Bitcoin's Return. (link)
---
My essays
If you missed them above, check out essays from previous weeks:
See you next week!
---
Disclaimer (full)
Views expressed in "content" (including posts, podcasts, videos) linked to or created in this newsletter, website, posts, or posted in social media and other platforms (collectively, "content distribution outlets") are my own and are not the views of any person, company, or entity I am affiliated with or each entities' respective affiliates. The content is not directed to any investors or potential investors, and does not constitute an offer to sell -- or a solicitation of an offer to buy -- any securities, and may not be used or relied upon in evaluating the merits of any investment.