🍕 Techonomics #17: Visa & Plaid vs the DOJ, Apple as a Disruptor, and a Story about Pizza
How the DOJ is learning, how Apple is disrupting, and one pizzeria owners' account of DoorDash.
Welcome to Techonomics
I'm Jake and welcome to our 17th week of technology industry analysis. We now have 2,817 subscribers weekly who get this newsletter delivered directly to their inbox. Thanks for all of the support and please share if you think someone could benefit from a read.
This week
This week we are back from last week's pause, and I am excited to share some very interesting bits around what Apple's new chips mean for the industry, Amazon's EU antitrust trouble, and a longer take of the DOJ case against Visa & Plaid's merger.
It's good to be back.
First time readers
Techonomics is a weekly newsletter exploring the intersection of technology, business, and the economy from an engineer's point of view. We will deep-dive into tech industry news, including niche news that may fly under the radar. Content and commentary to help make sense of the technology sector.
Also, take a dive into a few of my previous essays to get a sense of what you'll find week after week:
Enjoy!
— Jake
---
One longer take
💳 Visa & Plaid: The DOJ Applying Learning from Tech
In January of this year Visa announced a $5.3 billion acquisition of Plaid. This month it was announced that the DOJ filed an antitrust lawsuit to block that merger, stating that Visa is a monopoly in the online debit space with Mastercard having only 25% of the market to Visa's 70%.
We talk a lot about antitrust here, and I like to write about it given its salience to the current technology market conditions, so I was happy to see an antitrust case that's both tech and economics, or in this case, finance related. The reason being is that it's hard to fully compare and contrast the antitrust cases being brought against Google and other big tech companies to other antitrust cases, even to that of Microsoft… but this one is similar. Similar enough that the DOJ is learning from past mistakes.
---
Visual of the week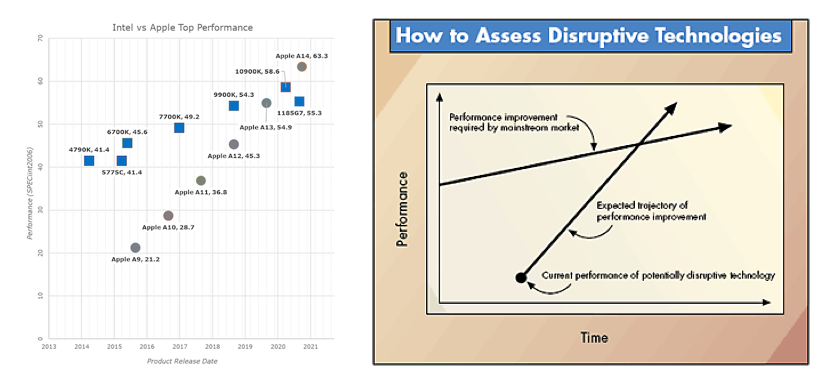 📈 Apple's new chips: Apple had a major announcement this past week where they unveiled the awaited Apple Silicon line of Macs. The new Macbooks come with an Apple M1 chip which is a beefier version of the A14 chips used in iOS devices (iPad, iPhone), and is a huge step away from Intel who had powered Apple's Macs for over a decade, a step that will both provide more control over the vertical integration that already makes Apple a success and to improve margins for their hardware sales. These two improvements will continue to let Apple differentiate itself as other companies have encroached on their software advantage. The best insight, though, that I have seen is the striking resemblance of a chip benchmarking graph and that of the late Clayton Christensen on disruptive technologies. Do you see it? What may seem like another really cool release for Apple, and it was, also has a depth of impact to the broader chip ecosystem: Intel's demise, as it relates to Apple, has completed. (link, link)
---
Interesting reads
🍕 DoorDash and pizza arbitrage: Super interesting case study of Door Dash's market demand testing from the point-of-view of a Pizzeria owner. The owner of the pizzeria found that DoorDash listed their restaurant on their platform without them knowing. When the customers would order on DoorDash, DoorDash would call into the restaurant to place the order for their Dasher (their delivery drivers) to pick up and pay for in-store before delivering to the customer. While on one hand I think this is a genius move on Door Dash's part, the lack of transparency around this demand test to the restaurant owners and customers is bad. How do you maintain quality control of the delivery? What do you do when those customers call into your restaurant asking about a delivery you didn't manage? (link)
🕵️‍♂️ Apple's privacy is dwindling: I was appreciative of an alarming article this past week that's reminding me of privacy in a world that's approaching Orwell's 1984. Apple is a company that touts itself on privacy, many times using this as a consumer-first way out of antitrust conversations. However, in the current (Catalina) and the upcoming (Big Sur) releases of MacOS, there are some glaring security issues in which Apple is tracking user behavior unencrypted across the wire. There are many issues with this, but the main is that anyone sniffing traffic (looking at your internet activity) can gain access. They also happen to be back-dooring iMessage encryption so that the FBI can take a peek. Not a good look right now for consumers, and a sticky situation for Apple who is being pressured by the US government for surveillance control. (link)
📦 Amazon's in trouble: After an investigation into Amazon last year, this past week the EU commissioner accused Amazon of using their marketplace data to gain an edge in competition for its own products over third-party sellers on Amazon's platform. We talked about this as a big no-no in 🤖 Big Tech and Antitrust: The Capitalism Paradox, and it's no surprise this is coming out during the wave of global antitrust across the EU, US, and China. The conversation here is interesting, as always, because we wouldn't even be having this conversation had third-party sellers been allowed to leverage Amazon's customer demand and logistics. I am of the mind that fairness needs to be checked in this case, but both conscious and unconscious bias is likely to make any company act in ways that are beneficial to them. The size and power of Amazon are what make this scary for third-party sellers whose livelihoods are at stake and I am excited about the outcome to level the playing field. (link)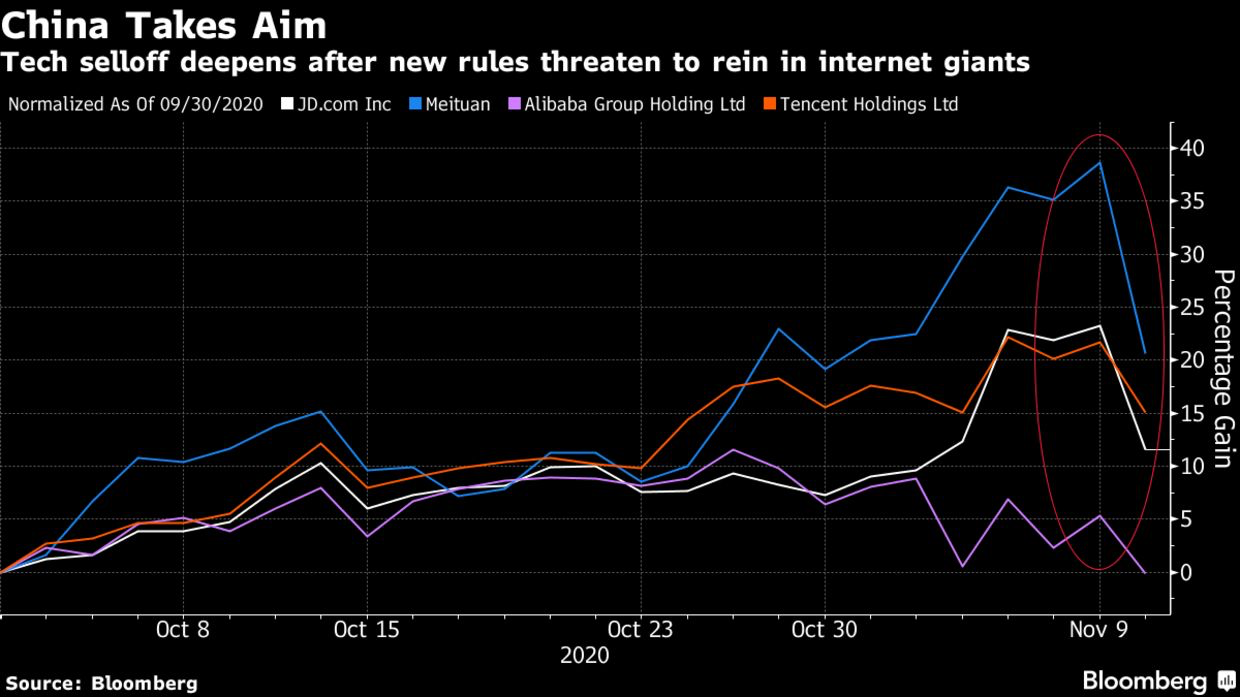 🇨🇳 Global antitrust: The EU and the US aren't the only regions where we are seeing an onslaught of antitrust regulation. China is starting to question the power of large tech companies like Alibaba and Tencent after also stopping the IPO of Ant, an Alibaba fintech subsidiary. This reigning in economic power caused a bloodbath for these companies in the stock market, each of them down anywhere from 5-10%. The communist party in China under Xi Jingping released regulations last week even in the face of technology advancement in China as a global tech powerhouse. China had largely been hands off (at least by their standards) with the technology companies as they were seen as a competitive strength, and they've done a great job already in the markets with lots of rhetoric around China becoming the epicenter of technology. I am curious to see how they balance this tradeoff of reigning in local power while trying to establish global dominance given all of the fear-led surveillance sanctions from all over the world. With a new presidency upcoming, the tune will shift in the US, providing technology companies with better government support, and that's something China doesn't want.  (link $, link)
🚕 Prop 22 and the contract business model: Proposition 22 was approved by voters during the election, which means that Uber, Lyft, DoorDash, and all other gig economy companies don't need to classify their drivers as employees. For drivers, this is a win for some and a loss for others, but the biggest winner is from those mentioned companies who spent over $200 million in marketing and lobbying efforts to get this passed. If one piece of regulation would completely change the foundational business model my company was built on, I would make that same strong effort. These companies will now have an easier time making the unit economics of their businesses work, which hasn't always been easy. (link)
🎙 Spotify and Section 230**: If you recall from 👩‍⚖️ Section 230, the Senate, and Understanding the Internet, Content and platform responsibility affect nearly every point of the internet. With Joe Rogan doing his thing, is Spotify, as a platform, responsible? Ultimately, the answer is always somewhere in the middle, and arguably, around policing of content. In this case, Spotify owns the content it's streaming and has control over the subject matter. In this case, they can, and should be seen as responsible for the content in the same way that Disney would be seen as responsible for the content it releases from its studio. Seems like a pretty simple answer here to me. (link)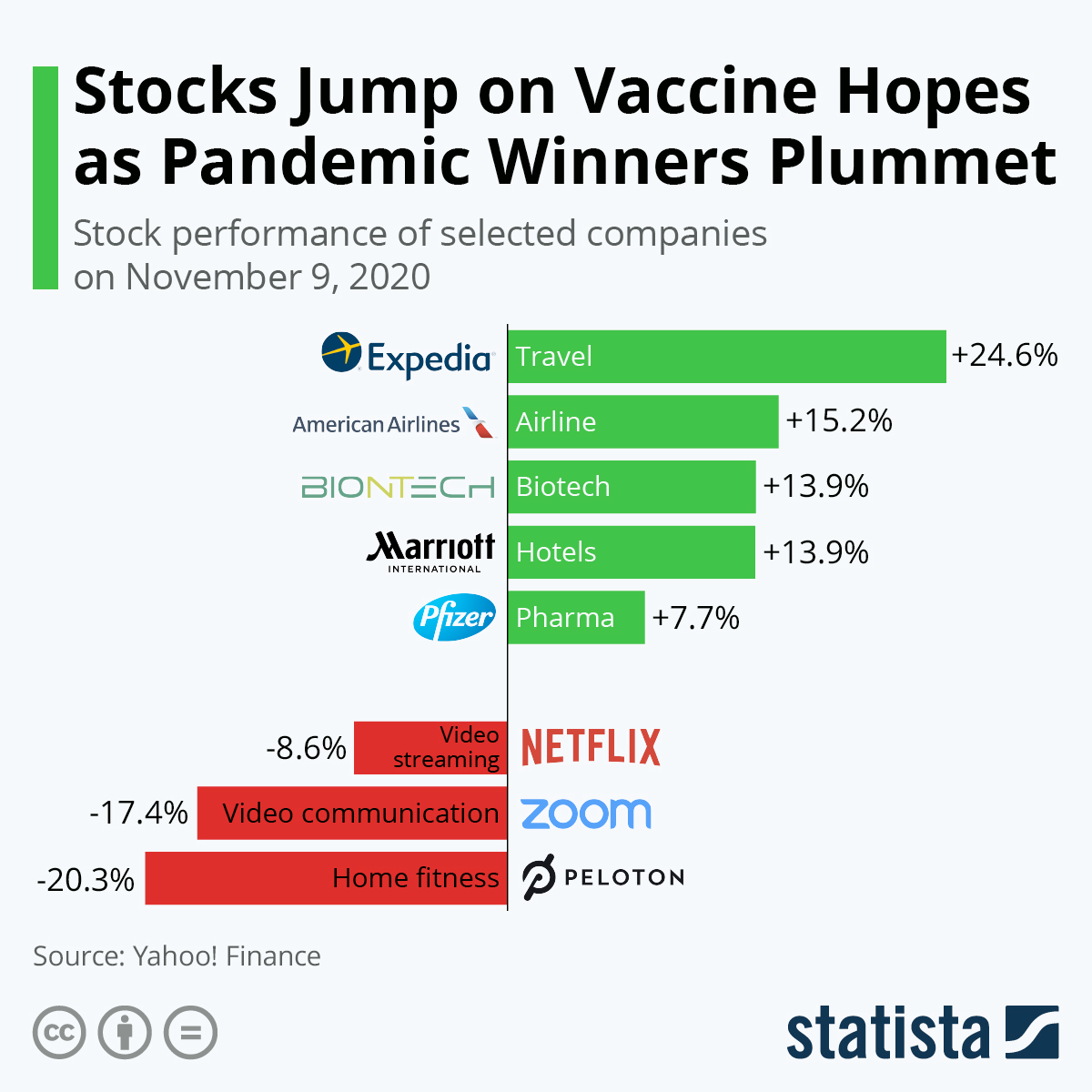 💉 Vaccine impact: Folks are starting to talk about what is sticky and what isn't, as in, what consumer behaviors will stay through the pandemic? I'd argue that consumer behaviors of online grocery, video communication, and video streaming aren't going away, but I think they may be right about Peloton and home fitness only because not everyone has a garage or extra room. When the gyms come back online, they'll be filled once again. (link)
---
Bites
💳 The gift card job: Interesting story of a MSFT employee caught stealing $10 million. (link)
🚙 GM's China EV: GM's venture is taking on Tesla with a small car fit for the market. (link)
🚄 Elon's competition:Virgin Hyperloop had its first human test this week. It's cool. (link)
🌶 Chipotle's first cloud kitchen: Chipotle is leaning into delivery based on demand. (link)
🍗 The TPP: Would you insure your Thanksgiving turkey? (link)
📹 TikTok: We haven't heard that name in a bit, and it looks like the US is backing off. (link $)
🥛 AI created (not)milk: No, seriously. (link $)
---
Follow-ups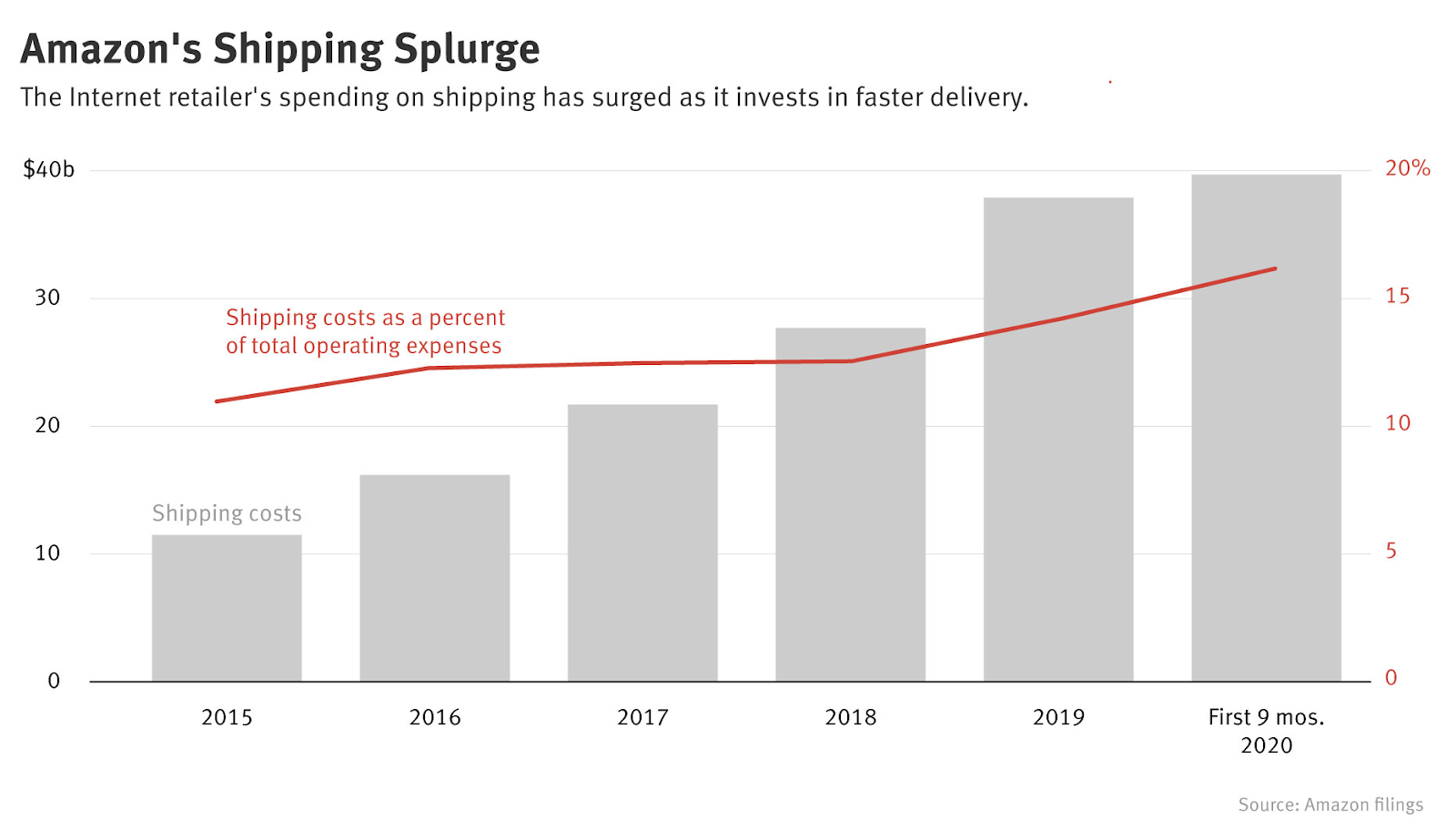 🚚 Amazon's continuing vertical: and into the territory of UPS, FedEx and USPS. Not surprising, but really cool to read about in-depth. When you continue to dominate an industry, looking to increase profit margins and control the customer experience becomes paramount, just look at Apple. (link $)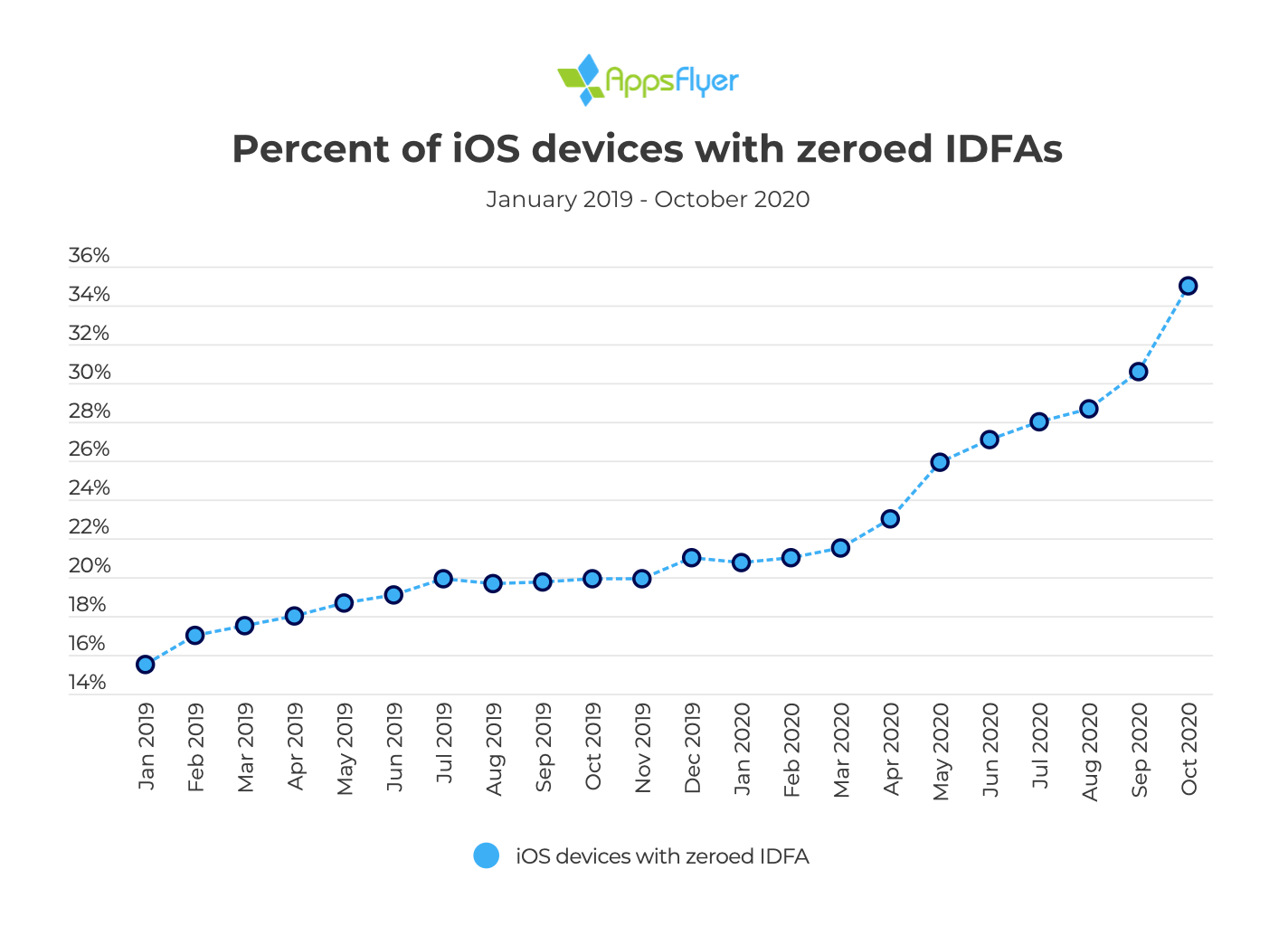 📍 IDFA preview: Back in September in 🍪 Upending the Internet's Free Business Model we discussed how the privacy changes in web browsers and mobile operating systems will impact the ad industry and subsequent industries that rely on the tried and true business model of internet ads. With iOS 14, Apple has started this off even after they decided to postpone the change to remove the IDFA (Identification for Advertisers) due to changes in the flow. The industry wasn't excited, but we got a bit of a preview of what the IDFA opt-in will look like when it's in full motion. (link)
---
My essays
If you missed them above, check out essays from previous weeks:
See you next week!
---
**Update: Previously when talking about Spotify and Section 230 above, I had a typo where I mentioned Shopify instead of Spotify. This has been corrected.
---
Disclaimer (full)
Views expressed in "content" (including posts, podcasts, videos) linked to or created in this newsletter, website, posts, or posted in social media and other platforms (collectively, "content distribution outlets") are my own and are not the views of any person, company, or entity I am affiliated with or each entities' respective affiliates. The content is not directed to any investors or potential investors, and does not constitute an offer to sell -- or a solicitation of an offer to buy -- any securities, and may not be used or relied upon in evaluating the merits of any investment.