🎙 Techonomics #14: Tech's Shifting Supply Chain, How to Measure SaaS Strength, and Hum-to-Search
How international regulation is causing tech's supply chain to move from China, retention rates as the holy grail, and what to do if you can't remember that song.
Welcome to Techonomics
I'm Jake and welcome to our 14th week of tech analysis. We now have over 2,200 subscribers weekly who get this newsletter delivered directly to their inbox. Thank you for all of the support and feel free to share!
No Longer Take this week
We don't have a Longer Take this week, but there's some great content below that builds on ideas we have looked at in previous weeks. Enjoy, and take a peek at some of my previous essays if you need to catch up!
First time readers
Techonomics is a weekly newsletter exploring the intersection of technology, business, and the economy from an engineer's point of view. We will deep-dive into tech industry news, including niche news that may fly under the radar. Content and commentary to help make sense of the technology sector.
Also, take a dive into a few of my previous essays to get a sense of what you'll find week after week:
Enjoy!
— Jake
---
Visual of the week
⁉️ Take your best guess: What's the average down payment for a home in the US? While this doesn't follow along with our usual narrative on technology, I was shocked by the answer: 5.3%, well below the 20% we typically think of as a proper down payment. That's a lot of loan leverage and comes with the need for PMI insurance, but it goes to show the need for capital in some states just to own a home. (link)
---
Interesting reads
🎮 Digital profit sharing? GameStop, a video game retailer, announced a partnership with Microsoft this week. Hidden in the long text is an important point: Microsoft is going to share some of its lifetime digital sales revenue from any Xbox sold at GameStop in exchange for GameStop using Microsoft's Azure Cloud and Surface devices in store. That means that GameStop will profit from the sale of each Xbox not only at time of hardware sale, but each time a subscription is started and a game is downloaded. I guess Microsoft's first job is to get the system in your entertainment center, and with the trend from physical to download games on consoles GameStop may not be having the best time considering loss of revenue from pre-owned game sales. Even so, I find it hard to believe that GameStop is so crucial to Microsoft's success with Xbox that they would trade any meaningful portion of lifetime player revenue for a distribution channel. (link)
🏭 China and the tech supply chain: China is a vertically integrated manufacturing powerhouse and is relied on by hardware tech companies in the US, like Apple. They rely on custom hardware, specific suppliers, and manufacturing efficiency in China that other countries fail to replicate. However, with the climate of trade protectionism and a US push against China's hardware manufacturing, companies are forced to deal elsewhere to avoid supply chain risk. That elsewhere is a horizontal and somewhat fragmented supply chain in Southeast Asia. (link)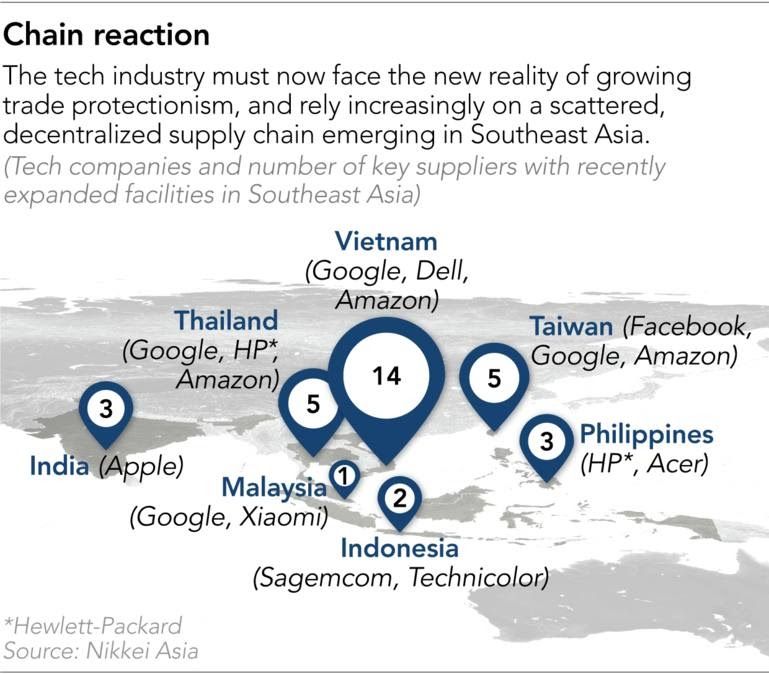 🕸 Google Chrome chopping block: The Justice Department is putting together their antitrust case against Google, and one of the ideas being floated is the forced sale of Google Chrome, the company's web browser. The key is that the DOJ is aiming its crosshairs at Google's power in online advertising. Like we talked about in 🍪 Upending the Internet's Free Business Model, Google relies on tools like third-party cookies and browser history to power its personalization engine. While this is just one of the many moves the DOJ has for the case, removing Google Chrome from Google's clutches is a good move if the DOJ wants to limit a key growth component of their advertising strategy, especially given Chrome has the largest market share across the world at ~65%. (link)
📐 Measuring SaaS success: The Information put out an article on retention rates, what affects them, and how important they are to assess the SaaS companies like Snowflake, who sits at 158% net revenue retention rate. In the technology industry, retention rates nearly always follow metrics like user growth to show how well not only the company can grow, but how they can continue to maintain that growth and hold on to existing customers. Amongst a suite of key metrics, retention rate is a direct measure of product success and product market fit.  It was a good reminder to take a look back at 📊 Software IPOs and S-1s: playing with numbers, and look at retention numbers of the previous few tech IPOs. (link $)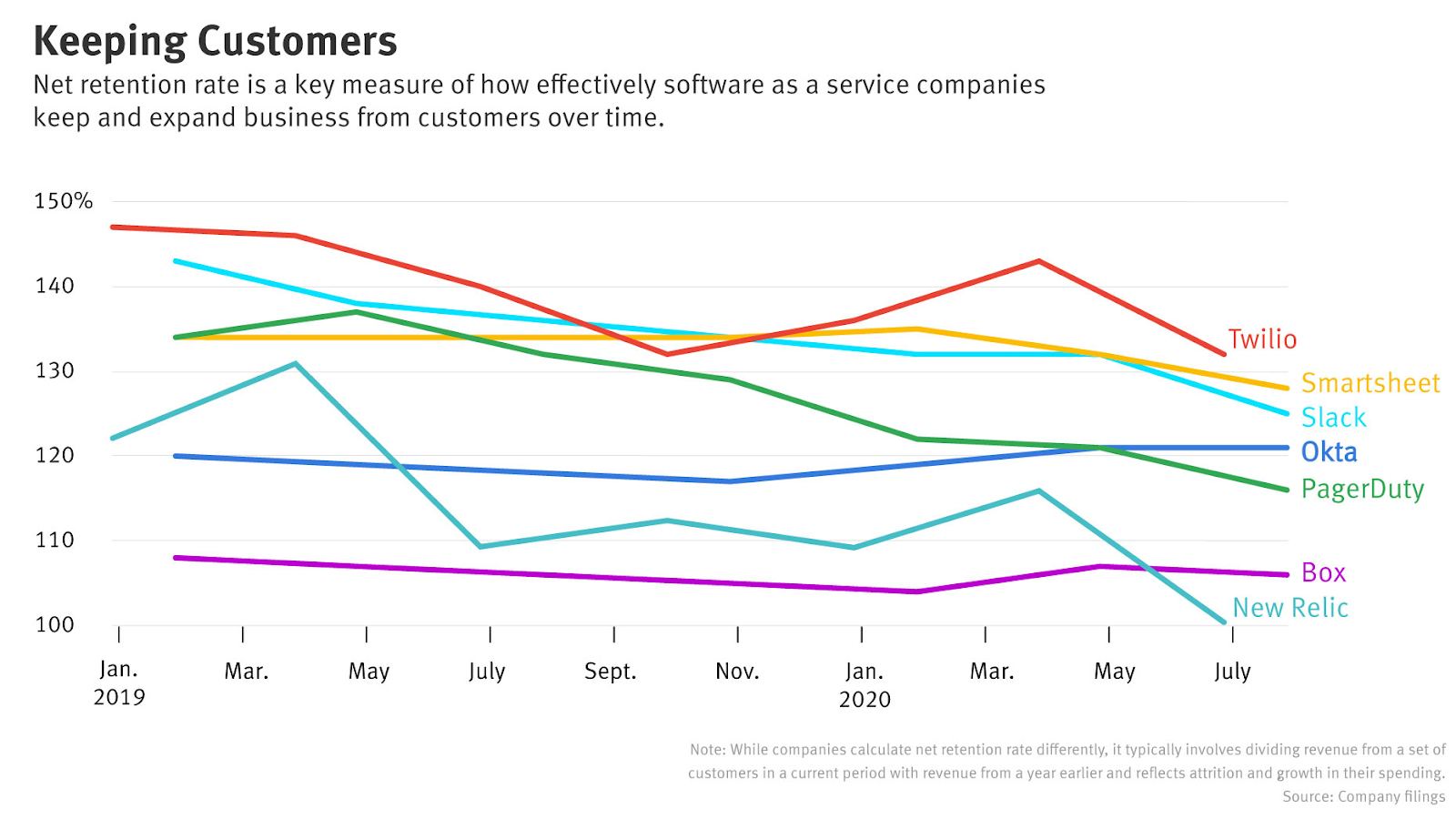 © Copyright an API? There's another legal battle going on in the tech sphere, outside of the antitrust cases, between Google and Oracle over the copying of Java code in the Android operating system. The argument for Google is that code is functional and sometimes there's only one way to complete a task, while Oracle looks at this as pure copyright infringement. The Supreme Court seems to be siding with Oracle as the trial continues. They responded strongly to a Google petition last year which sums up their position and the importance of the case:
This is the copyright case of the decade. Software interfaces allow software applications, platforms, and devices to communicate with each other. In this case, they allow millions of applications written by thou- sands of developers to work on billions of devices. Soft- ware developers re-use the connections defined by ex- isting interfaces to allow new and innovative applications—like programs that measure your heart rate— to work on mobile phones, tablets, smartwatches, and other devices. But the Federal Circuit has held that (1) a software interface is copyrightable, and (2) re-using it to create even an exceptionally innovative product is not fair use. Both rulings are effectively binding nationwide.
I will say, it's hard to argue with the Supreme Court here, but software is complicated, as we've seen in the antitrust cases and open-source community. The courts seem to be looking for some precedent as each side brings up its own analogy arguments, but when you have globally scaled, readily available platforms at your fingertips, it's not clear they'll find the puzzle piece. (link $)
🇺🇸 The US internet: Ben Evans put out a great essay on the end of the American Internet. It's further information on why we are seeing the balkanization of the consumer internet and working through a mess of geopolitical and localized regulation like that of California, the EU, and China. What happens when there are too many rules across different regions? We need a true global standard, not the common denominator approach, else 'hello fragmentation'. (link)
---
Bites
🦠 COVID-ML: Oxford scientists used machine learning to create a new, cheap COVID test. It identifies the virus using fluorescence labeling. More importantly, it could create a portable test device with results in 5 minutes.  (link)
⚾️ Baseball's SPAC? The Red Sox are going public? (link $)
🎶 Hum-to-search: Google announced search updates this week, and this was the best. (link)
🔑 Zoom privacy: Zapps, or zoom apps are cool, but end-to-end encryption was the most significant announcement from Zoom this week. (link)
🌎 Router service play: Eero Insight, enables anonymized statistics so that the ISPs can see uptime or downtime of their networks in real-time or speed test data. This is pretty genius. (link)
📱 Apple's iPhones: The sleek new line of iPhones is out with 5G and Lidar. (link)
🌾 Rippin' the fields: Alphabet's robotic buggy that inspects plants. More data.  (link)
---
Follow-ups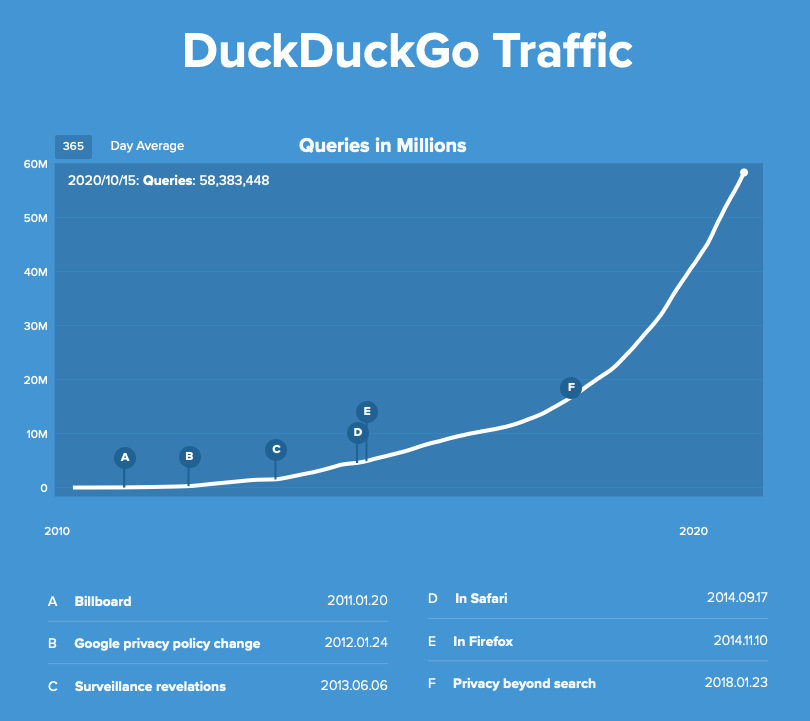 🕵️‍♂️📈 Privacy search adoption: Last week there was an article in the Newsletter #13 about the Global Privacy Control coalition led by the organizations like Mozilla, DuckDuckGo, the New York Times, and the Financial Times. This week I came across DuckDuckGo's traffic site and moved my personal default search engine to DuckDuckGo. DuckDuckGo is a search engine, browser extension, and app that allows you to search privately without being tracked using the tools we discussed in 🍪 Upending the Internet's Free Business Model.
While a daily average of ~60 million searches over the past year pales in comparison to Google's ~8 billion daily searches, it's growth over the past 10 years has been strong. Given the push for consumer privacy and Google's position with the DOJ via an impending antitrust case, it's likely to see even further accelerated growth. With DuckDuckGo and many other pro-privacy initiatives there's a tradeoff of personalization for privacy, and the internet right now is built on personalization and convenience. Is the current privacy push enough for users to prioritize privacy, and forego Google's convenience? (link)
📝 Section 230, Social Media, and the FCC: This week Twitter and Facebook took down an article from the New York Post. That caused the FCC to consider an executive order to augment Section 230 and reduce its ability to protect technology platforms. Two weeks ago we talked about why that's a bad idea in 👩‍⚖️ Section 230, the Senate, and Understanding the Internet, and seeing the politically motivated, anticipated use of an executive order to strip away the platform protections is deeply troubling to any democracy. We are in a predicament of platform power and truth-seeking, and Section 230 is in the middle when the First Amendment is also at play. (link)
---
My essays
If you missed them above, check out essays from previous weeks:
See you next week!
---
Disclaimer (full)
Views expressed in "content" (including posts, podcasts, videos) linked to or created in this newsletter, website, posts, or posted in social media and other platforms (collectively, "content distribution outlets") are my own and are not the views of any person, company, or entity I am affiliated with or each entities' respective affiliates. The content is not directed to any investors or potential investors, and does not constitute an offer to sell -- or a solicitation of an offer to buy -- any securities, and may not be used or relied upon in evaluating the merits of any investment.