⌚️Techonomics #11: What a Minute Looks Like on the Internet, Upending the Internet's Free Business Model, and Birds Thinking about Thinking
Society's internet use, what happens when you remove internet tooling, and crows.
Welcome to Techonomics
I'm Jake and welcome to our 11th week of technology industry analysis. We are up to 1,300 subscribers, up over 300 from last week and going strong. Thanks for all of the support.
The Longer Take is back
This week we are back with a new Longer Take, diving into some internet breaking news and its impact on the ad industry. It may not be what you think. Check it out here.
First time readers
Techonomics is a weekly newsletter exploring the intersection of technology, business, and the economy from an engineer's point of view. We will deep-dive into tech industry news, including niche news that may fly under the radar. Content and commentary to help make sense of the technology sector. Subscribe now:
Also, take a dive into previous essays to get a sense of what you'll find week after week:
I hope you enjoy it!
— Jake
---
One Longer Take
🍪 Upending the Internet's Free Business Model
Why recent changes to foundational technology tools for ads tracking will change the internet.
The internet is changing. If you're following technology news, you know there are stories on Big Tech, US antitrust, DOJ cases, international regulation, government intervention, international acquisitions, national security, and the pressure to change up the 30% App Store tax. That's just a select few, but pick any of those stories and you can get the sense that we aren't in Kansas anymore.
One thread in particular is sliding under the radar and has an immense impact on the foundation of a traditional internet business model. I am talking about the trend to improve internet consumer privacy by removing the ability to track you across the web and mobile apps.
---
Visual of the week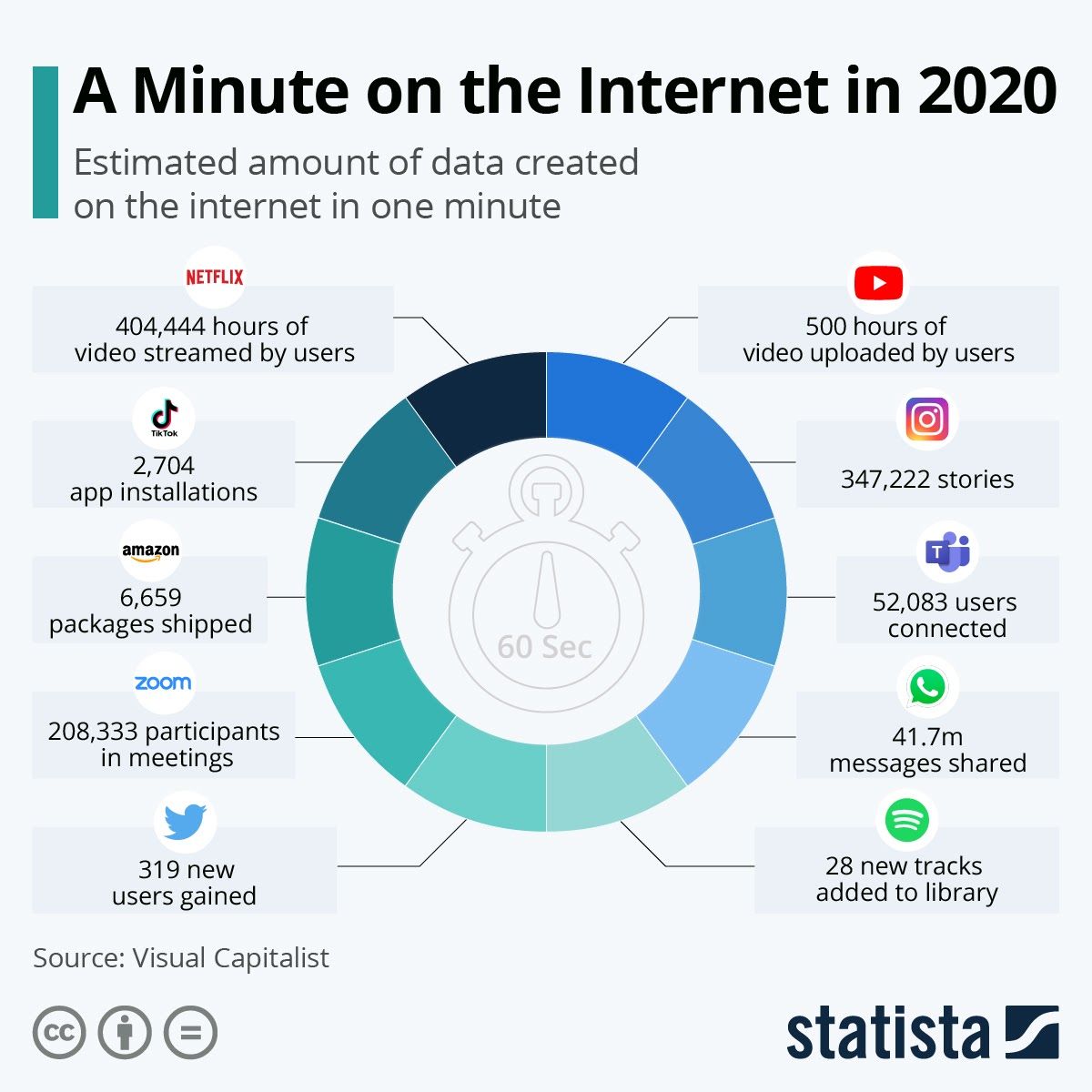 What a minute looks like on the Internet: We use apps like Screen Time on our iPhones to tell us what our usage of apps and web pages is, and those numbers are sometimes frightening. But what about numbers that represent all of society's use in a minute? (Link)
---
Interesting reads
📹 More TikTok for the US: Continuing the TikTok story,the app was supposed to be blocked in the US starting Sunday night, but the US can continue to download the headline making app after US District Judge Carl Nichols issued his decision to grant a preliminary injunction just after 8PM ET today. This is big news for the overall story as the app is set to be further restricted on November 12th. Nothing like some last minute news to end our Sunday. I can't help but follow along. (link)
☃️ The VC model for Snowflakes: One of my favorite reads this week was one that profiles the success of Mike Speiser's unique VC model. Most VC's build a brand that generates deal flow which they invest in with a lighter touch. Speiser takes flips that model a bit on its head by focusing on incubators only, working as interim CEO, and setting up the operational aspects of the business while letting the founders flourish. His success doesn't lie. (link)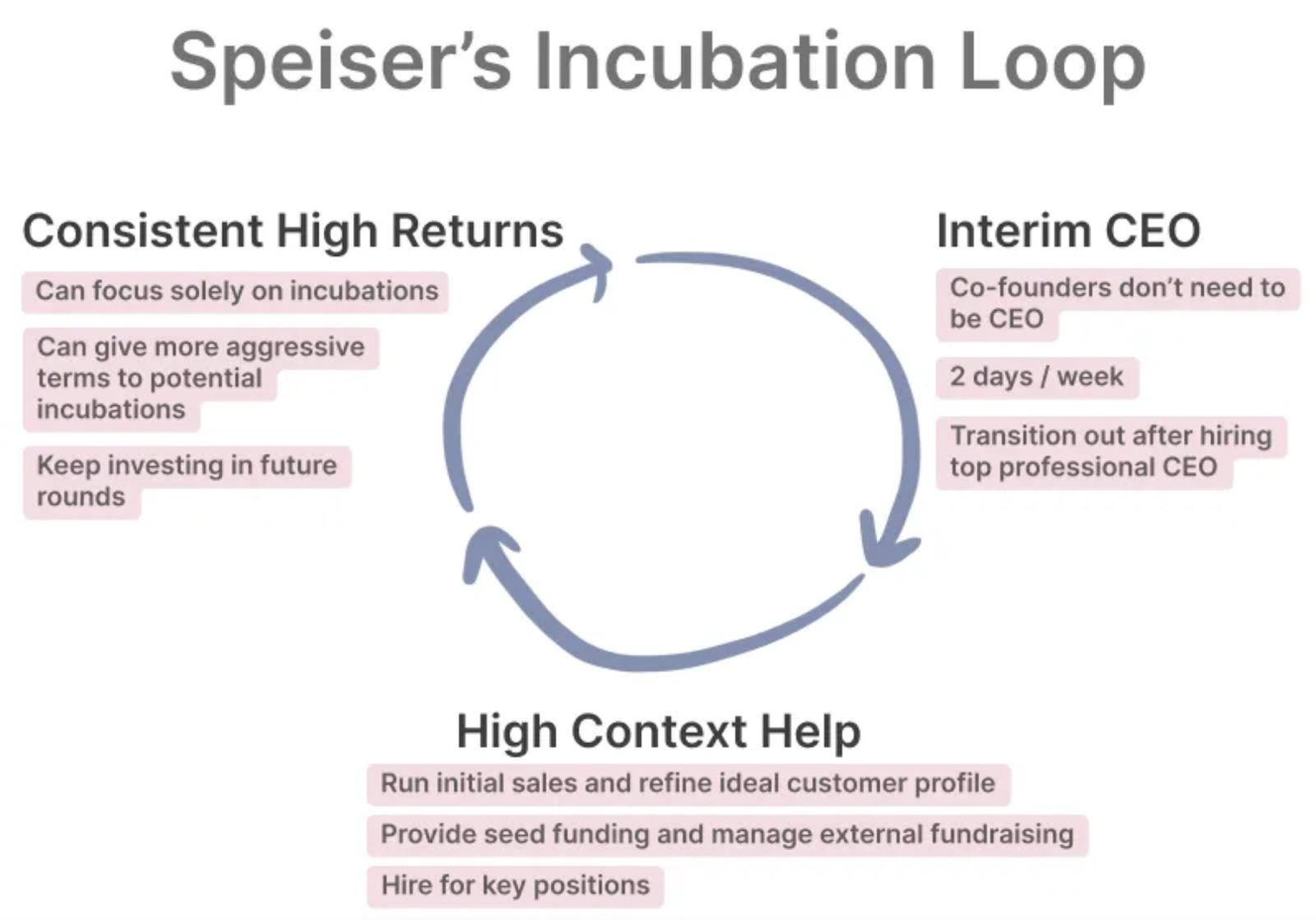 👩‍⚖️ Huang's Law: Similar to Moore's Law, the throughput and performance of AI computation power doubles every 2 years. NVIDIA is at the forefront of this trend, so why not name it after Jensen? Regardless, if it holds true, AI computation will keep improving at lightspeed. (link $)
🤠 Howdy, AI partner: Microsoft now has an exclusive license to GPT-3, OpenAI's new language model is now. GPT-3 was initially said to be too powerful to open-source, and Microsoft is coming in as a trusted partner to put up the guardrails for other company usage. (link)
📱 What's really at stake with Epic and Apple: This week it was announced that companies like Epic Games and Spotify formed the Coalition for App Fairness. Google, meanwhile, is pushing on their app store policy ($). I also happened to stumbled on an editorial piece in Bloomberg ($) that encapsulates my thinking on the App Store. It's a quality assurance, security, and distribution mechanism all roped into one, and if you tear it apart, you need to understand the impact for end consumers. While it can be argued that 30% is steep for app developers, the coalition's 10 points of conduct could misalign incentives, add security issues, and ultimately make our devices less secure. (link)
🧠 Change-up: Beautiful piece about the collapse of legacy thinking and transformation in the 2010's into the 2020's. Globalization has been prevalent for years, but what does that look in like 2030? Can we come together to solve global problems like climate change, inequality, immigration, and the balkanization of the internet? (link)
✍️ Digitally Native Vertical Creators: There's a secular trend happening, and you're a part of it just by reading this newsletter. Traditional models that were the foundation of the internet as we know it are starting to lose their value, like ad supported media. News outlets have been on the search for increased margins and communication control with their audiences. The same thing is happening with content creators. If your value is in the content, and internet tools are helping democratize access to your audience, why not go vertical? (link)
---
Bites
🤯 E.T. Phone Drone: Amazon announced a flurry of new products this week, but the most interesting is the Ring Drone which will fly itself around your house, allowing you to check in on different areas of your house. Privacy concerns, absolutely, but really neat. (link)
👨‍🍳 Cloud Kitchens + COVID: Covid has pushed forward some trends, but we haven't talked a lot about what's powering the food delivery you are seeing on DoorDash and UberEats. Have you ever looked up the restaurant you are ordering from your favorite delivery platform on Google Maps? You might not find it. (link)
🚲 Thinking about a Peloton? A fellow substack author wrote a deep dive into Peloton's story, business model, product lines, and competition. There's a lot to unpack. (link)
🤖 One huge robot: There was a video circulating this week of a 60 feet tall Gundam robot in Japan. It's pretty amazing. (link)
⚡️ So you want an EV? Visual Capitalist put out a great visual on the range and cost of the electric vehicles on the market. If you are planning on purchasing, this could be a good, high-level data point. (link)
🐦 Higher bird intelligence: Apparently crows can think about thinking, something only thought of as present in humans and few mammals. No more birdbrain jokes. (link)
---
Follow-ups
🇨🇳 NVIDIA + Arm in China: Last week we announced that NVIDIA and Arm were joining forces. There is still a lot of approval that is needed before the deal finalizes. I came across an article specifically on China, and it's likelihood of giving the green light. It's worth a read. (link)
🕵️‍♂️ Antitrust & Google's Search Dominance: You'll recall from a few weeks ago in 🤖 Big Tech and Antitrust: The Capitalism Paradox that Google has a huge share of the search market, around 90%. As the DOJ prepares its case against Google, there are a few threads to pull on, including ads, but it looks like they are going for the strongest case: Search.  (link $)
---
My essays
Check out posts from previous weeks:
See you next week!
---
Disclaimer (full)
Views expressed in "content" (including posts, podcasts, videos) linked to or created in this newsletter, website, posts, or posted in social media and other platforms (collectively, "content distribution outlets") are my own and are not the views of any person, company, or entity I am affiliated with or each entities' respective affiliates. The content is not directed to any investors or potential investors, and does not constitute an offer to sell -- or a solicitation of an offer to buy -- any securities, and may not be used or relied upon in evaluating the merits of any investment.