🔮 Techonomics #12: Internet Laws, Palm Readers, and a New Business Boom
What Section 230 changes will do to the internet, how Amazon is pushing privacy limits, and how now actually is the time to build.
Welcome to Techonomics
I am Jake and welcome to our 12th week of technology industry analysis. We now have over 1,700 subscribers weekly who get this newsletter delivered directly to their inbox. Thank you for all of the support!
Update for all readers
I have been having a great time writing and getting this newsletter out to you each week. While I try to get this out on Sundays, I have been finding that my writing bleeds into Monday or Tuesday. In the future, you can expect Technonomics to be in your inbox sometime on any of those three days. Keeping you on your toes.
First time readers
Techonomics is a weekly newsletter exploring the intersection of technology, business, and the economy from an engineer's point of view. We will deep-dive into tech industry news, including niche news that may fly under the radar. Content and commentary to help make sense of the technology sector.
Also, take a dive into previous essays to get a sense of what you'll find week after week:
I hope you enjoy it!
— Jake
---
One Longer Take
👩‍⚖️ Section 230, the Senate, and Understanding the Internet
How small changes to the US law could again impact Internet fundamentals
A few weeks ago we talked about the antitrust hearing featuring Alphabet, Amazon, Apple, and Facebook in 🤖 Big Tech and Antitrust: The Capitalism Paradox. Along the same lines, this past Thursday the Senate Commerce Committee voted to move forward with subpoenas for CEOs across social internet companies to appear on October 28th. Again, we will see the CEO of Facebook, Mark Zuckerberg, and the CEO of Alphabet, Sundar Pichai, take the virtual stand. This time Jack Dorsey, the CEO of Twitter, will join them. Instead of antitrust, however, the power of these companies is going to be questioned through the lens of Section 230.
Section 230 is a hotly debated topic in the political and technology sphere. For those not familiar, Section 230 is the law generally regarded as a major reason and catalyst for the spread of the social internet through social platforms created by companies like Facebook, Google, and Twitter. This law protects these companies by removing liability for what's posted on their platforms by their users. This means that if there is an indecent or violent video posted to these platforms, they are not liable for any damages to their users, like you and I. This removes the right for us to sue these platforms for the content that others post. While that seems like a get-out-of-jail-free card for these platforms, it's a massive reason why the internet is as we know it today.
---
Visual of the week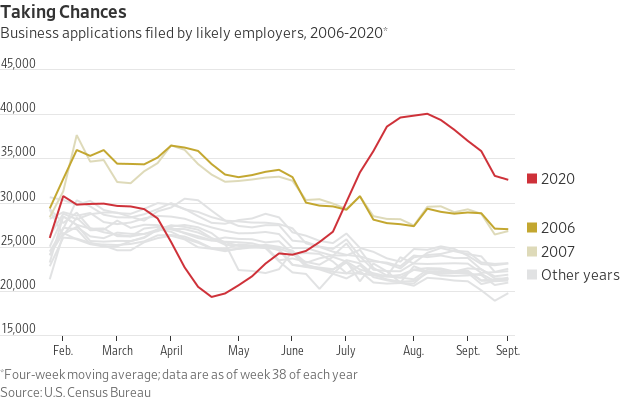 💥 New Business Boom: Looks like Marc Andreessen was right when he wrote his piece at the start of the pandemic: it's time to build. The amount of new business applications is taking off compared to previous years. People are trying to go out on their own. To make up for what the pandemic 😷 stripped away. I am excited to see the innovations. (link $)
---
Interesting reads
🤲 In the palm of their hand: This week announced Amazon One, a palm reader used for in-store physical retail. Anytime there's a need to pay at a store, present a loyalty card, scanning a ticket, or badging into work, Amazon hopes you feel ok using your biometric data saved in their cloud. Biometric data that's more than just your palm's unique lines, but a subcutaneous signature, like your vein composition. Technology to read your palm is not new, but the way it's being marketed here is. Will the masses be ok with handing their ever-so-personal biometric data for convenience? I imagine so. (link)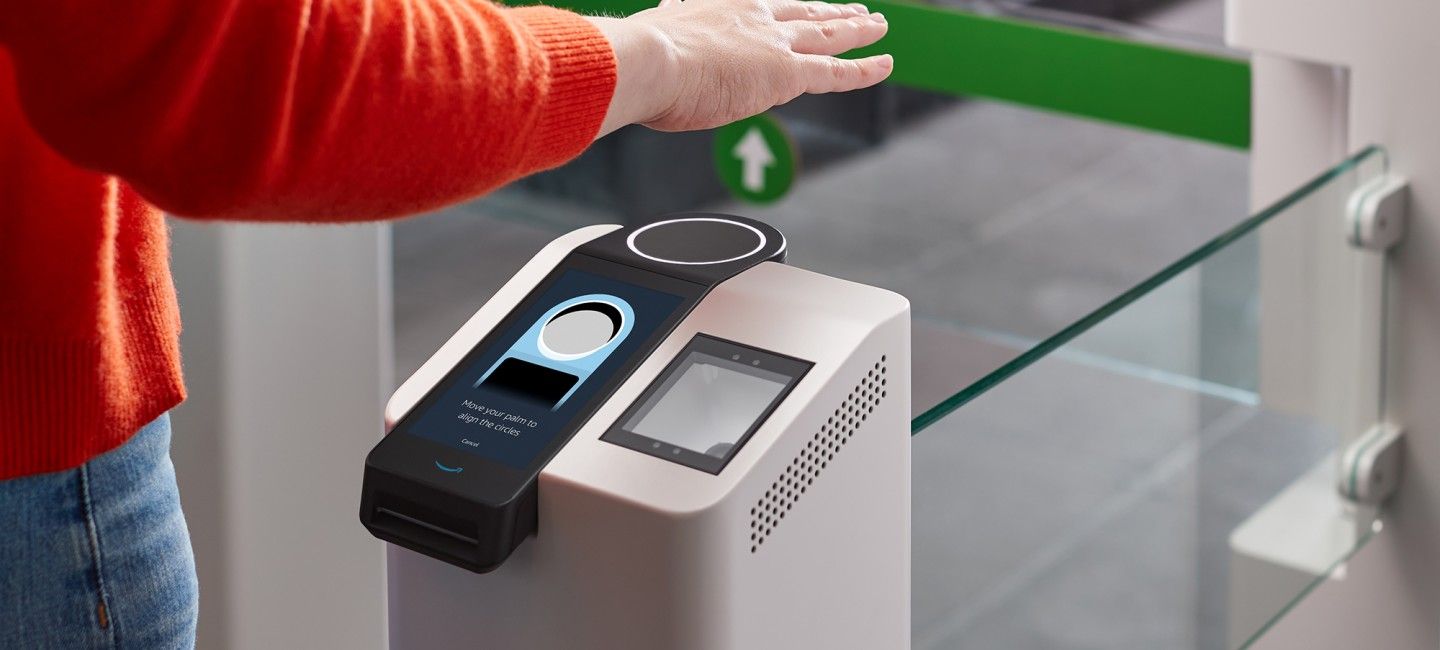 🦾 AI Deep Dive: If you really want to get into the technical weeds of AI and understand the current state of the technology, then look no further than the 2020 State of AI Report by a couple of investors who have great context on the ins and outs. (link)
➡️ Directly listing: Palantir and Asana went public this week, both as a direct listing of existing shares. They are the 3rd and 4th companies to go public via a direct listing, after Spotify and Slack both did as well. We talked about the financials of each of these companies in 📊 Software IPOs and S-1s: playing with numbers, and while I was surprised to see each ticker end the week above the reference price, they weren't blockbusters by any means.  (link)
⌚️ Watch out: Apple's watch is taking over the wearables market. The Apple Watch installed base is increasing by the size of Fitbit's overall installed base every 12 months. This type of growth is showing an increased trend of consumer interest in a product that may have been a bit early to market. (link)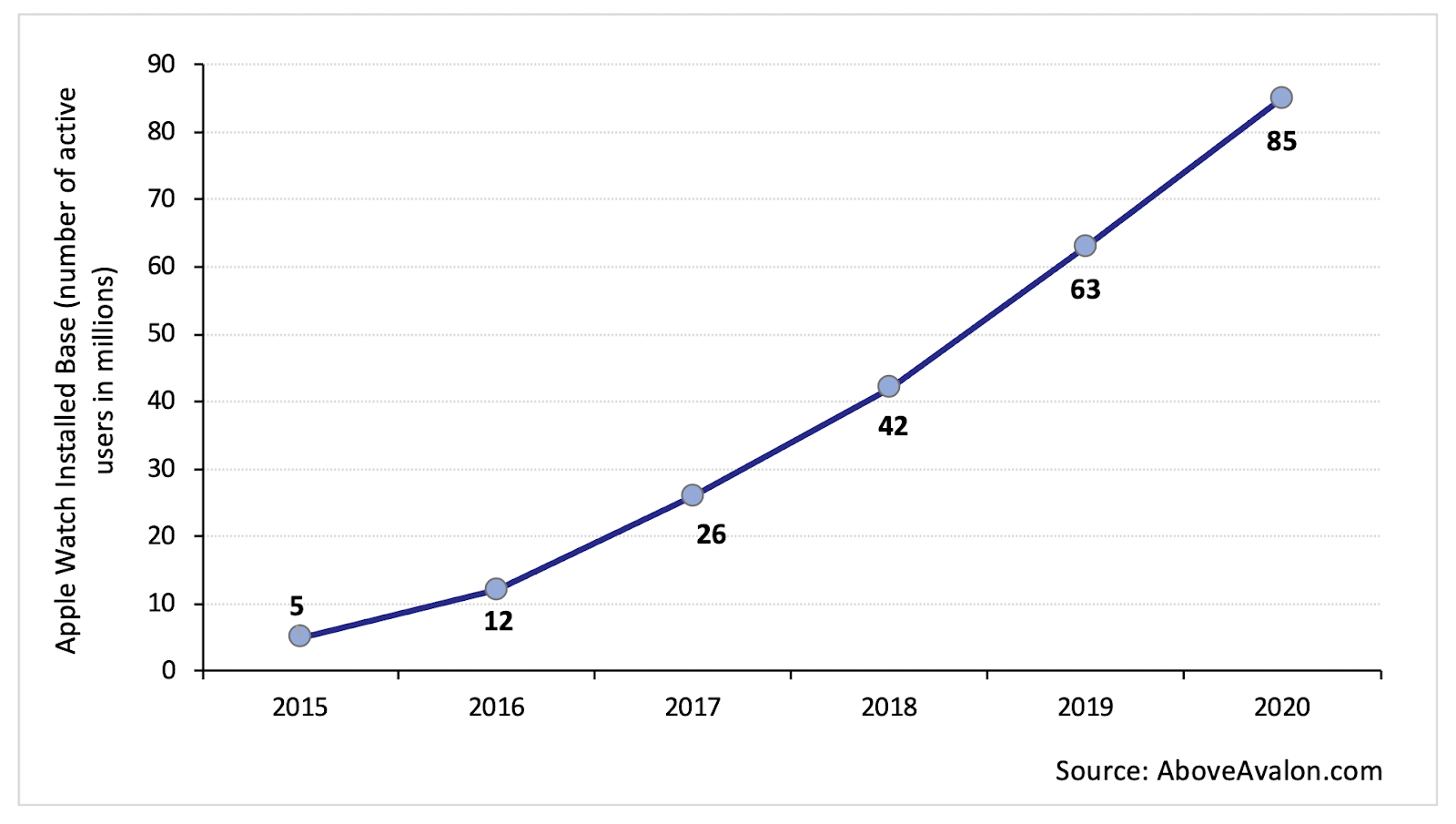 👨‍⚖️ H-1B Win: H-1B, L-1, H-2B and most J-1 temporary visas were supposed to be banned in a June 2020 proclamation, removing the ability for foreign national entry into the US. This week there was a preliminary injunction preventing this ban. I was extremely happy to see this given long-term and short-term implications of such a ban. Over half of the US's most successful technology companies were created by immigrants, and many of my closest, brightest friends in the Bay Area rely on US immigration policy. Outside of morals and ethics, if we want to be a place for the best talent, best companies, and overall strength in the global technology market, I believe we need to support a free-flowing highly-skilled labor market. (link)
🇪🇺 Cracking down: An EU document leaked this past week, describing anti-competitive gateway behavior they are seeking to crack down on. This would impact the companies we have been talking about in 🤖 Big Tech and Antitrust: The Capitalism Paradox and other platforms who act as gateways to the internet. What's interesting about this document is how far reaching it is, and how it touches on nearly every thread from antitrust arguments, including App Store discussions between Apple and Epic Games. What would an iPhone look like without pre-installed apps? (link)
---
Bites
🌊 Climate tech takes the pie: VC and corporate investment into climate technology is growing at a faster rate overall than VC investments as a whole, from $418 million in 2013 to $16.3 billion this year. (link)
🦿 AI + Medical = Early detection: Statistical analysis and machine learning is being used by doctors to detect osteoarthritis early… 3 years early. (link)
🛫 Missing the skies: How about taking a flight to nowhere to get back into the skies without a quarantine follow-up? People are spending thousands. (link $)
☕️ Starbucks' loose change: A friend of mine shared a deep look at Starbucks' 2019 financials and just how much money we as consumers are lending them via our gift card balances. Incredible. (link)
🥧 Consumer technology pies: Who has what market share for watches, phones, tablets, and even the chips powering them all? (link)
---
Follow-ups
😇 Innocent until proven guilty: Last week we found out that the TikTok ban that was supposed to go into effect last Sunday was blocked by Judge Carl Nichols. On Monday, the reasoning was outlined. While there is ample evidence that China is a likely security risk, the administration has yet to prove that apps like WeChat and TikTok themselves are the problem. The deal with Oracle and Walmart is still underway. (link $)
🤑 Paying out: Google announced that they are putting their money where their mouth is, and will pay $1 billion dollars to license content from news publishers for their Google News Showcase product. We talked about the business model and economics of this play out in 🇦🇺 Australia vs the Aggregators. While these companies could be paying for distribution, they are benefitting from the regulatory scrutiny that Google is under from Australia, the EU, and US around antitrust and gatekeeper behavior. (link)
🤷‍♀️ Bench or jury? This week Judge Yvonne Gonzalez Rogers suggested to Apple and Epic in a hearing on Monday that the group consider a jury trial instead of a bench trial. This has interesting implications, as a trial in front of a jury would bring in diverse perspectives of the general public over just the judges themselves. Epic seems to be pushing for a bench trial even while the hearing didn't go so well for them. (link)
---
My essays
Check out posts from previous weeks:
See you next week!
---
Disclaimer (full)
Views expressed in "content" (including posts, podcasts, videos) linked to or created in this newsletter, website, posts, or posted in social media and other platforms (collectively, "content distribution outlets") are my own and are not the views of any person, company, or entity I am affiliated with or each entities' respective affiliates. The content is not directed to any investors or potential investors, and does not constitute an offer to sell -- or a solicitation of an offer to buy -- any securities, and may not be used or relied upon in evaluating the merits of any investment.