🥕 Techonomics Newsletter #8: Australia vs the Aggregators, Grocery Innovation, and Phones in a Tree?
Australia's news code, Instacart and Whole Foods, and Amazon's impact on the gig economy.
Hey all,
Welcome to the 8th newsletter from Techonomics. For those of you in the US, I hope you had a nice, long Labor Day weekend!
Quick announcement
Last week I quietly rolled out paid subscriptions to help keep my writing going as a donation. I wanted to say thank you to those who have already become paying subscribers. I am honored that you feel my content is not only worth reading, but also paying for.
If you'd like to become a paid subscriber and help keep my writing going, you can get a 40% discount now as a founding subscriber!
I plan to evolve my model over time and save any longer analysis for paid subscribers. Some of my previous archive is already paid only. This newsletter will remain free.
First time readers
Techonomics is a weekly newsletter exploring the intersection of technology, business, and the economy from an engineer's point of view. We will deep-dive into tech industry news, including niche news that may fly under the radar. Content and commentary to help make sense of the technology sector.
I hope you enjoy it!
— Jake
---
🇦🇺 Australia vs the Aggregators
There's been a flurry of ill-informed and brash regulation proposals related to technology companies recently.
On the heels of the US antitrust hearings, it isn't a new pattern: regulators seeking to improve consumer and company rights against big tech.
Regulation has merit, as we talked about in Big Tech and Antitrust: The Capitalism Paradox. However, regulators need to deeply understand the impact of rulings prior to instating them.
Either government supported regulators are naive and don't understand market economics, they are subject to heavy lobbying, or both. Specifically in the Australia example.
Australia's proposal absurdity
In April, the Australian Competition and Consumer Commission (ACCC) was tasked with putting together a draft code (law/regulation) to address…
Continue reading the full post
---
Visual of the week
🏒 Retail hockey stick: The COVID-19 economy is pushing hard towards online retail from 12% of all retail at the beginning of 2020 to 16% in Q2. This isn't a shock, but the graph below puts the impact into perspective. (link)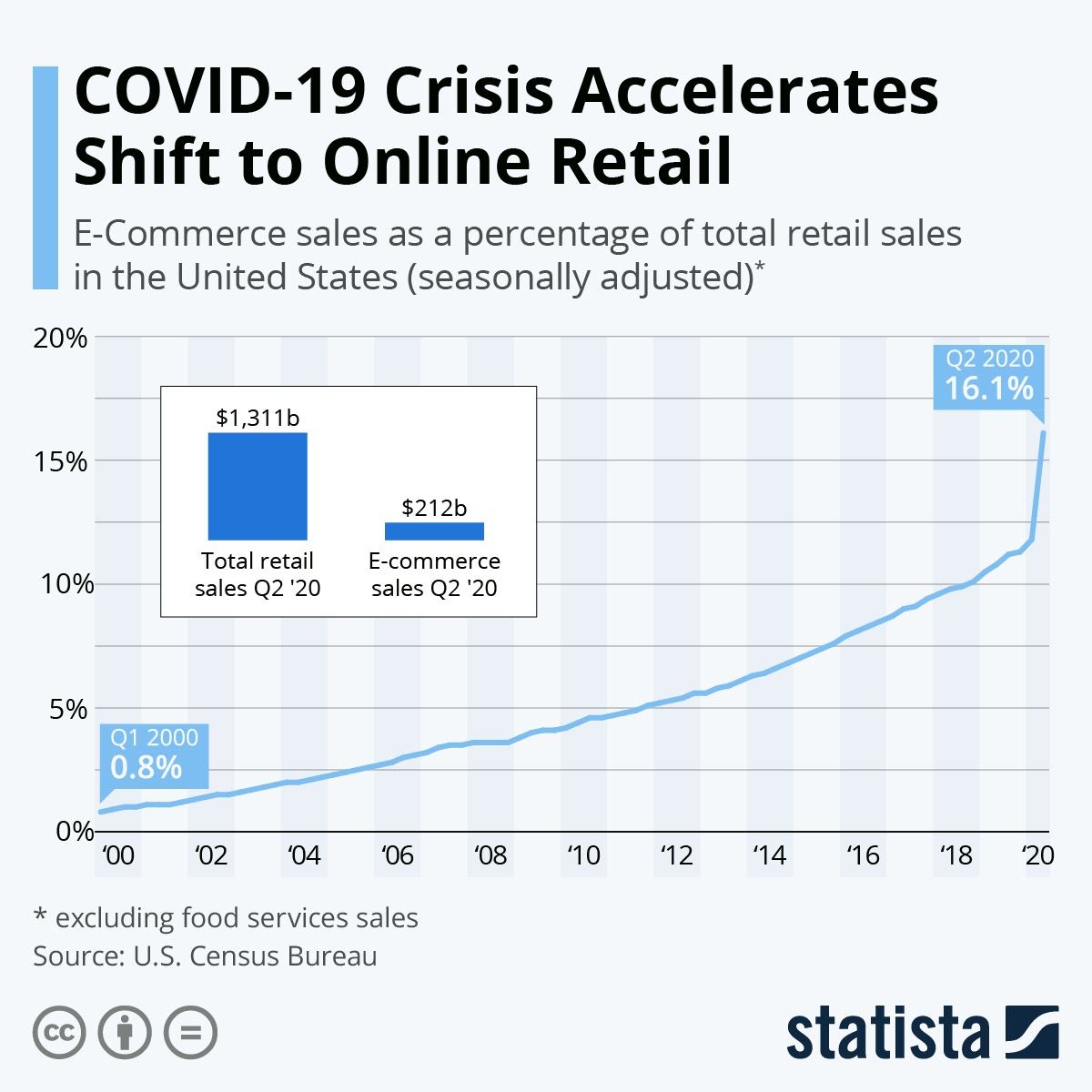 ---
Interesting reads
📈 Softbank causing a ruckus: Those high flying tech stocks might not be propelled solely from Robinhood day traders. The Financial Times reported that Softbank has been gaming the market by entering into single company equities and then purchasing single stock call options against the same companies to boost the value. Insane that the markets can be engineered like this, but when you have money, other money will follow. (link)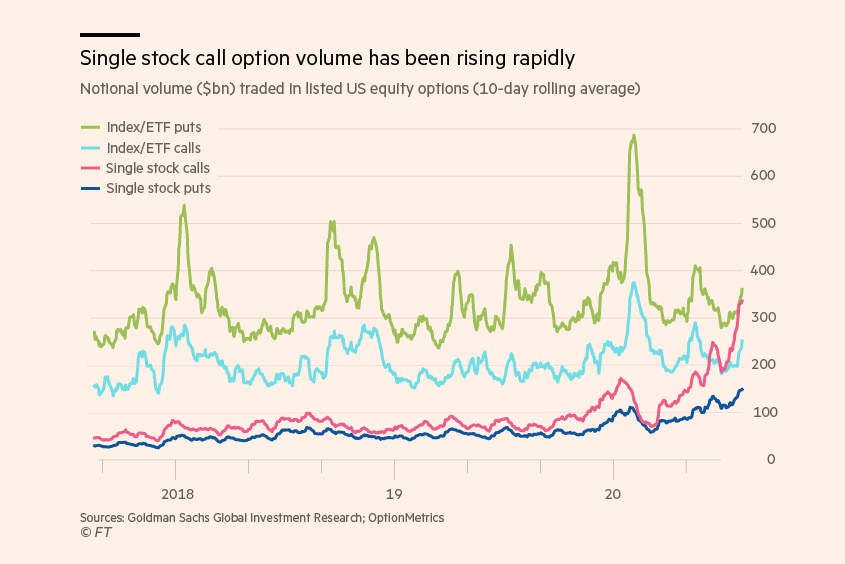 🛩 Amazon, you're clear: The FAA is giving clearance to Amazon to test commercial drone deliveries. Two weeks ago, Amazon also received approval to put thousands of satellites in orbit. They're taking to the skies. (link)
🥑 Online only Whole Foods: Amazon's Whole Foods is setting up an online only fulfilment center in Brooklin. The store will be permanently used to fulfill online grocery orders to customers in the Brooklyn area. This has massive implications for urban centers and it will be interesting to see what happens in non-COVID times. For now, excitement around delivered avos. (link)
🌲 Evergreen content and it's leverage: The value of evergreen content, upfront investment, and the long-tail for syndication is showing it's true colors for Netflix — they can leverage their 0 marginal cost for content production and their apps as free distribution  This is the very definition of work while you sleep. (link)
🤑 Everyone's a day trader: With the chart below as well as this article from the WSJ, folks are pent up in their houses, interest rates are at all time lows, and democratized access to $0-fee trading means that folks are trying to make money. (link $)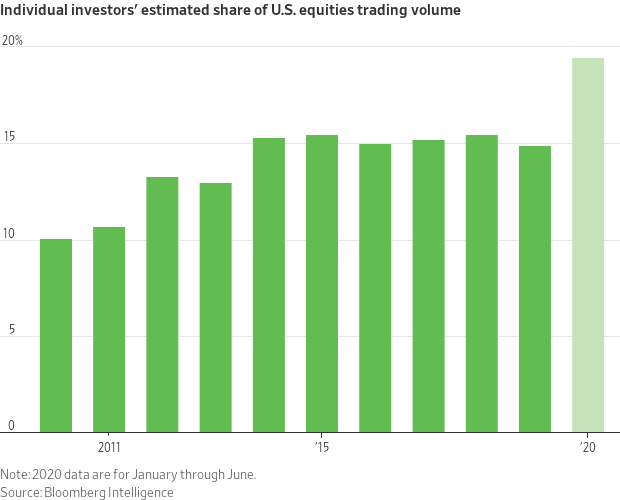 🌴 Phones in trees: Amazon delivery drivers are going to some insane lengths to get orders. While this story has a great headline and Amazon already closed the loophole, it shows the need of these drivers to make a living in a gig-economy. (link)
📱 iOS 14 feature delay: Apple is going to delay the move to allow users to opt out of Apple's in-app ad tracking. It's a bit more nuanced than that, but it shows that no matter what business you're in, ensuring your customers are happy is important. In this case, it's the large companies propping up your app store. (link)
⏹ Squared up: people are getting excited about Square's surge in the Cash App usage. What this means is that they can 'close the loop' of payments by removing card networks as the middlemen. Cash app to pay at a Square terminal means the transaction is only happening in Square. Pretty cool, but the adoption has to be ubiquitous. (link $)
🤖 AI battling deep fakes: Microsoft announced a deep fake detector tool that looks at edge blurring anomalies. This is a huge step in the right direction for AI accountability and consumer safety. As technology improves, it can be used for good and evil. (link)
❓ How does Robinhood work? We talk about Robinhood a lot here because it's a) finance and b) tech related, but it's not always clear how it works under the hood. They are more up-front now, but the SEC is still probing them for issues on the platform. Really great WSJ deep dive. (link $)
---
Bites
🙀 Debt scariness: the US federal debt as a share of GDP is over a 100%. This means that we are at the same level of debt in relation to output since WWII.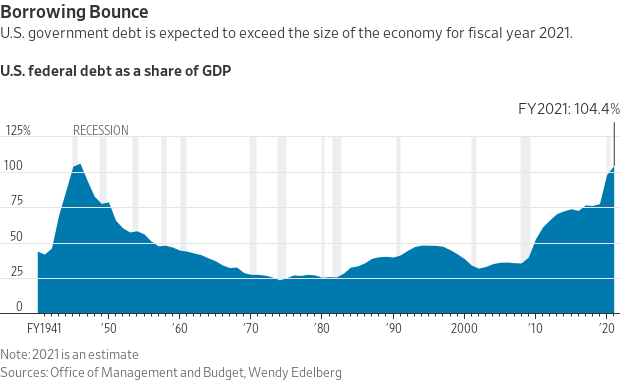 🔴 PSA on Mac malware: Be aware if you have a Mac. There was a bit of an Apple slip. (link)
🛥 Boats and AI: interesting idea to leverage AI and autonomous driving first in boats. Perhaps there's nothing on the water and that makes it easier to decipher objects… but what about the waves? (link $)
🍏 Apple or Android nation? There's a lot that goes with mobile usage. In particular, iOS users tend to have higher spend while Android tends to dominate in low-cost geos. (link)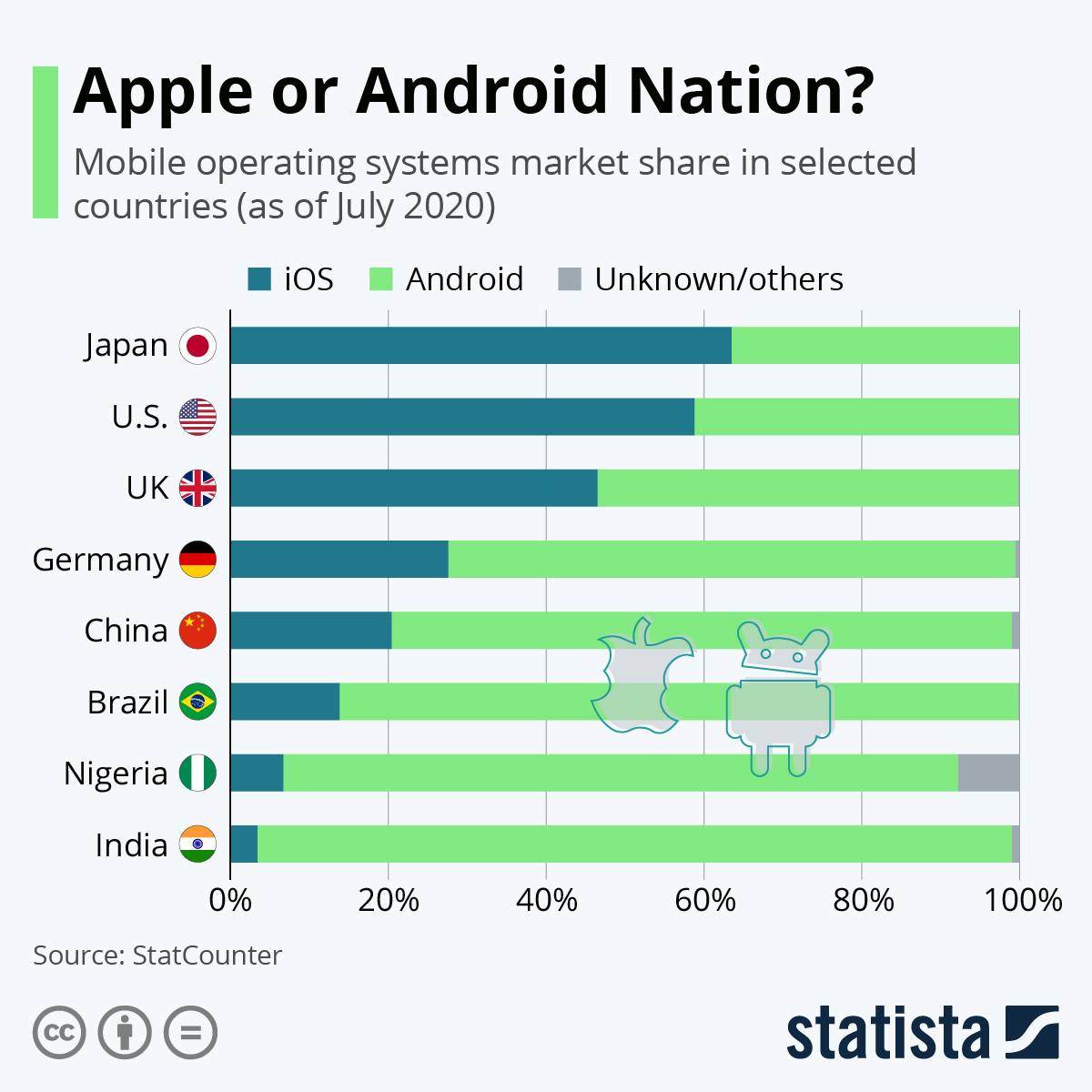 📉 Trading reliability: Reliability in fintech is important, but not always top of mind. If we want to level the playing field, let people trade. (link)
💊 GoodRx is just what the doctor ordered: a profitable company that's going to IPO is surprisingly hard to find these days. (link)
🏨 SPAC'd down: not all companies want to be a part of a SPAC. It's not for everyone, especially Airbnb. (link)
🍎 Apple's impact antitrust strategy: Apple has been in the antitrust spotlight, but it can talk about the creation of jobs to lighten the scrutiny. Apple employs over 90,000 employees across all 50 states, and supports 450,000 manufacturing and supply chain jobs. Pretty cool. (link)
---
Follow-ups
🌐 Internet for all: Bill Gates investing in next generation satellite broadband technology. As we talked about in Cable Companies and the Innovator's Dilemma: Round 2, this technology is the yin to the 5G yang. (link)
🚪 Antitrust knock-knock: William Barr and the US Justice department are starting to push heavily on Google's antitrust case. Some think they should proceed with caution and rigor, some want to go for it. We mentioned in Big Tech and Antitrust: The Capitalism Paradox that Google was going to be the first target of antitrust scrutiny because their case was more clear cut. (link)
🥕 Even more convenient convenience stores: Instacart teamed up with 7-Eleven this week to bring you your Slurpee. With Amazon, DoorDash, GoPuff, and now Instacart getting into the convenience store delivery game, it's hard not to see the value in last-mile logistics discussed in CFCs, urban warehouses, and the last mile. (link)
📊 Palantir profits: When will we see Palantir's profitability? Well, likely not for some time. We talked about this in Software IPOs and S-1s: playing with numbers, but this chart says it all.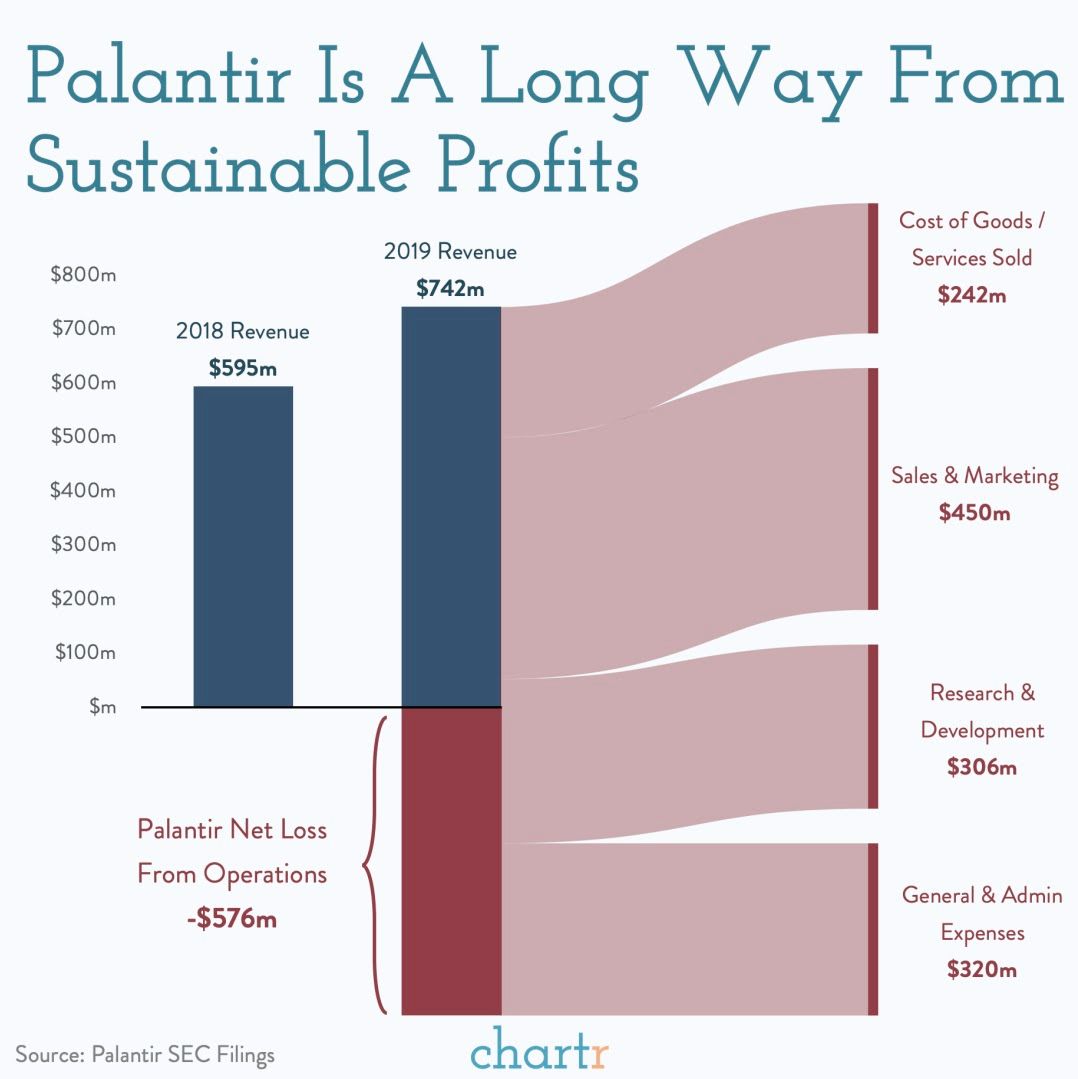 ---
Previous writing
If you want to take a look at posts written prior to this week, check out some of the favorites:
See you next week!
---
Disclaimer (full)
Views expressed in "content" (including posts, podcasts, videos) linked to or created in this newsletter, website, posts, or posted in social media and other platforms (collectively, "content distribution outlets") are my own and are not the views of any person, company, or entity I am affiliated with or each entities' respective affiliates. The content is not directed to any investors or potential investors, and does not constitute an offer to sell -- or a solicitation of an offer to buy -- any securities, and may not be used or relied upon in evaluating the merits of any investment.