🦾 Techonomics #9: Platform Power, Android's Trouble, and Facebook Just Being Facebook
Why productizing platforms is the true differentiator and why foreign policy needs care.
Welcome to Techonomics
I'm Jake and welcome to our 9th week of technology industry analysis. We are going strong. Thanks to everyone who keeps reading and giving feedback week over week! It's amazing to see all of the positivity and hearing how much folks look forward to this every week. Let others know by sharing!
For first time readers
Techonomics is a weekly newsletter exploring the intersection of technology, business, and the economy from an engineer's point of view. We will deep-dive into tech industry news, including niche news that may fly under the radar. Content and commentary to help make sense of the technology sector.
Also, take a dive into previous essays to get a sense of what you'll find week after week:
Cheers!
— Jake
---
One longer take
💸 Productization & Platforms
I have been thinking a lot about business strategy lately. Through reading technology news week-to-week, there is a pattern that's helping increase my understanding of the impact and value of technology companies. Impact and value that might not be top-of-mind based on what that company is known for.
If we were to look at technology companies like Amazon or Netflix, we could say that they are dominant in their respective industries of e-commerce and content streaming, and that would be true. A large percentage of the company value is derived from the main product offerings. However, there's more than meets the eye.
As companies scale and become dominant in their industries, they want to grow sales, reduce margins, and increase profits. There are a few ways to do this like increasing market share, increasing per user spend, or reducing operational costs by vertically integrating operations. This will make any company more valuable.
But as companies start to see diminishing returns on investment in their main product line, have already vertically integrated to improve margins, or are simply looking for future growth, they need to diversify.
What happens at that point? Well, the company starts to look for addressable markets, opportunities, and areas of internal stored value. Stored value as second product offerings and revenue streams to be unlocked for the masses through productization [0] and low marginal costs, many times as platforms.
---
Visual of the week
💿 How's that CD collection? CDs just don't have the same appeal as vinyl. Hard to beat the big artwork, old school sound, and overall hipster level of a vinyl. That appeal and the rise of streaming has sent CD sales to the bottom, putting vinyl in the top spot.  (link $)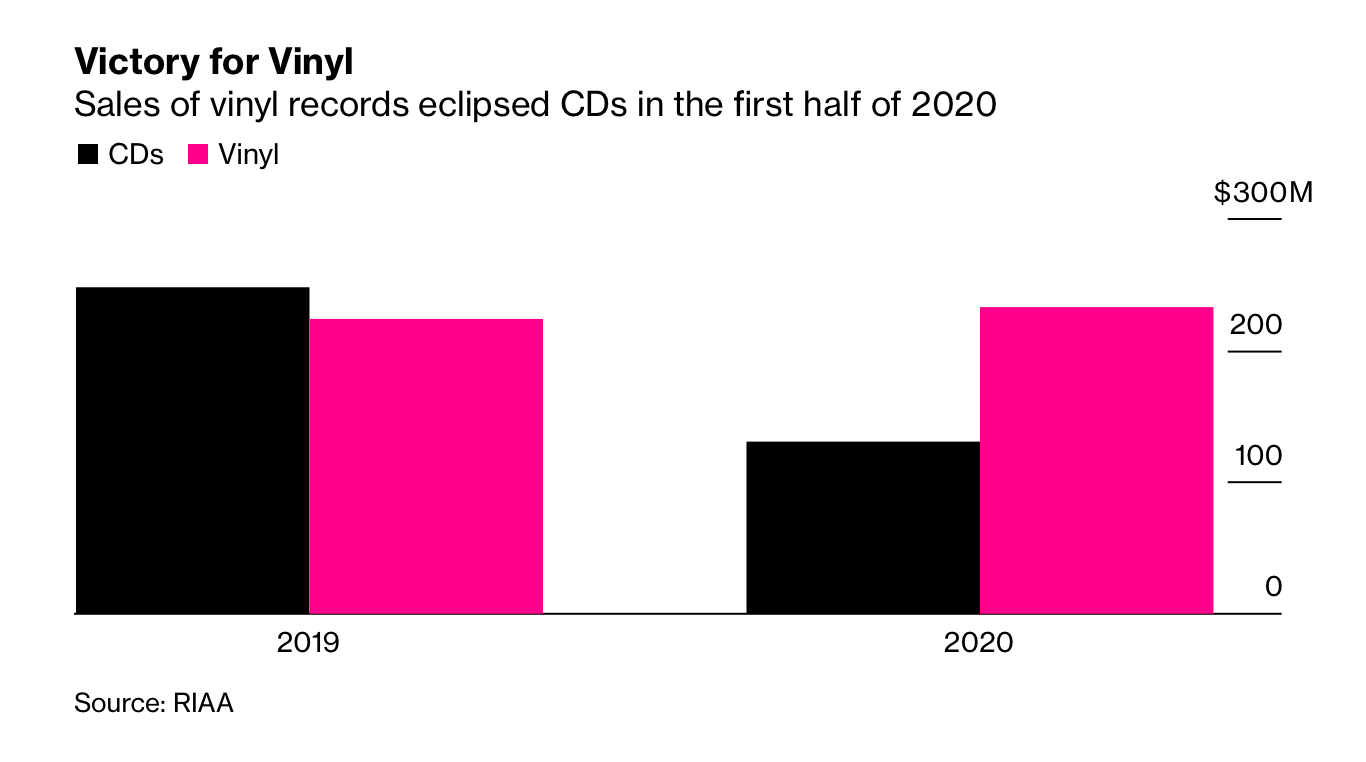 ---
Interesting reads
📑 Apple's changing it up: Apple released new App Store guidelines this week, and it's a sort of closure on some of the standoffs we have seen between Apple and Basecamp, Epic Games, and Microsoft. What I really like about this approach is that it feels like it maintains the integrity of the App Store model while being flexible enough to adapt to changing market needs. Some might not see it that way. (link)
💡 Beware foreign policy: Huawei announced this week that they will replace Android with their own operating system due to restrictions that the US government has placed on it's chips and 5G technology ($). With Huawei owning 20% of worldwide smartphone shipments, this is a huge blow to Google and the Android operating system, and a blatant reminder that we need to think through foreign policy changes and retaliation if we want to maintain the locus of technology in Silicon Valley. (link $)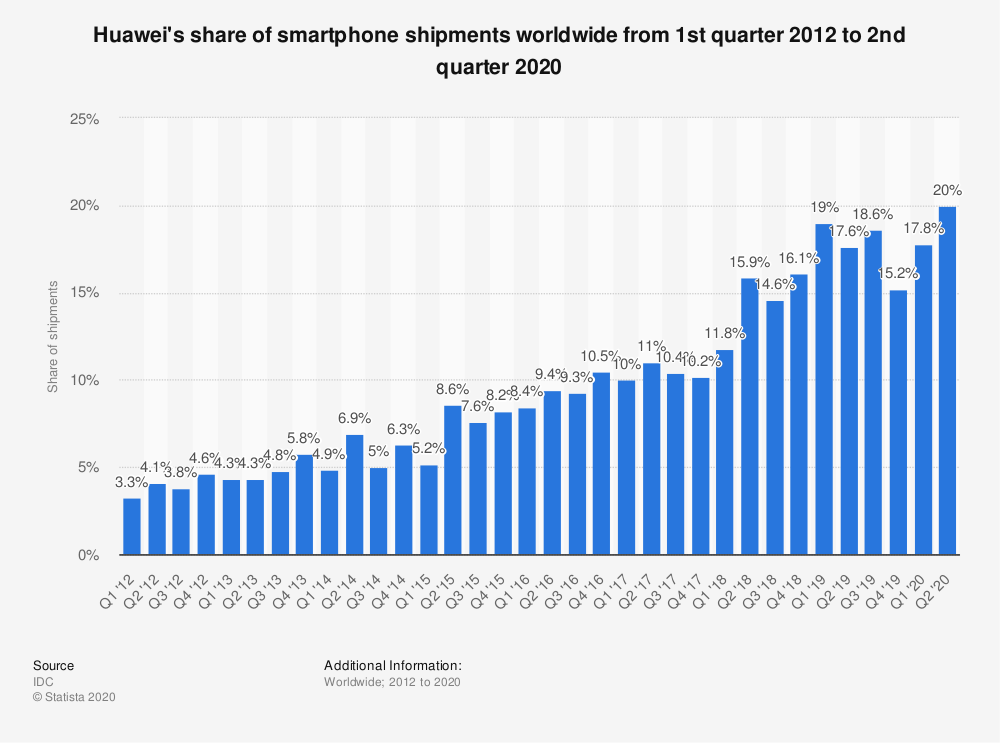 Additionally, Chinese officials are retaliating against the US's Clean Network Program by trying to instate its own global data security rules. Be careful what you wish for. (link $)
🤖 GPT-3 hype machine: Yes, OpenAPI's GPT-3 is great. It's a language generation Machine Learning model that's trained with a much larger dataset than previous generations and uses a concept called Few-Shot Learning. From a few text examples GPT-3, and other language generation models, can generate paragraphs of texts, answer easy math questions, and respond to prompts based on the billions of parameters that will predict the next text to display. So many parameters and such a large dataset that no normal person could run the model due to cost. Pretty cool.
The problem here is the response from the media. It's a very important technology. That can't be overstated. However, it's a model run with mathematics and inputs that has its limitations. When we see articles like this, the masses are hyped to think that it's something to fear. In reality, the article itself was pieced together from multiple attempts and doesn't show the true output of the model. If we want to start talking about how scary this is, let's have neutral discourse backed by fact and quite stoking the hype machine and fear for clicks. (link)
🗓 Tech IPOs: This coming week we will see JFrog (9/15), Snowflake (9/15), SumoLogic (9/16), and Unity (9/17) go public and kick off the 2020 tech IPO season. If you missed the in-depth analysis on this, check out 📊 Software IPOs and S-1s: playing with numbers where we dive into the SEC filings and S-1 numbers. We even have a spreadsheet that you can copy and play around with yourself. (link)
👩‍🎓 Facebook is back to basics: I remember when I got my Facebook account. It was the day I got my .edu email address, which you needed to sign up.. Without going too deep into a back-in-my-day story, the experience back was exclusive and appealing. Now Campus from Facebook is using that same exclusivity with an upgraded look and feel to bring back the younger users that have been flocking to Instagram, TikTok, and Snap. Smart. (link)
💵 Amazon's money makers: If you didn't click to read my longer take, 💸 Productization & Platforms, take a look! In it we talk through how companies build platforms for internal use and how powerful those platforms really are. If you take a look at Ben Evan's take here, you can also see why. (link)
---
Bites
👨‍⚖️ For every action, there's an equal and opposite reaction: Apple counter sues Fortnite game maker over App Store contract breach, seeking damages. (link)
🤿 Take my money: Apple designed their own face mask for COVID times, available to their employees. (link)
🎥 Netflix culture at home: Reed Hastings has opinions on work from home that clash with the rest of Silicon Valley. It really comes down to culture. (link $)
🧃 Options are juicing the market: Great quick take on why we are seeing tech fly high in the market. It might not just be SoftBank. (link $)
👨‍🍳 Learning appliances: When we think of AI and Machine Learning, there are a lot of uses like autonomous vehicles, drones, and algorithms, but what about AI appliances that tell you when there are issues? (link $)
🔥 SF Bladerunner: What happens when you put a wildfire apocalypse to Blade Runner 2049 music? (link)
---
Follow-ups
🔑 The key to get your cut: Spain is back at it trying to tax the offerings of technology providers. As you remember last week, we talked about 🇦🇺 Australia vs the Aggregators and the fact that Spain had tried in the past to tax Google News. Google pulled their product from Spain that time, but now will have a harder time doing that. Spain wants to tax all technology companies that operate telecommunications services, such as calls and instant messaging, based on revenue from said services, even if they are over data networks. It's a smart move given that messaging is much more ubiquitous globally, it's harder for any technology company to simply prevent messaging from happening. Luckily for the tech giants, those products don't generate much revenue at all. (link)
---
My essays
Check out posts from previous weeks:
See you next week!
---
Disclaimer (full)
Views expressed in "content" (including posts, podcasts, videos) linked to or created in this newsletter, website, posts, or posted in social media and other platforms (collectively, "content distribution outlets") are my own and are not the views of any person, company, or entity I am affiliated with or each entities' respective affiliates. The content is not directed to any investors or potential investors, and does not constitute an offer to sell -- or a solicitation of an offer to buy -- any securities, and may not be used or relied upon in evaluating the merits of any investment.