🧠 Techonomics #10: A Unique Snowflake, NVIDIA's Arm, and Reading to your Brain
Snowflake's IPO, NVIDIA's prepping for the future, and a nifty brain trick backed by science.
Welcome to Techonomics
I am Jake and welcome to our 10th week of technology industry analysis. We are going strong and crossed 1,000 subscribers this week, up ~400 week over week! Thank you for all of the support, and please share.
No Longer Take this week
I took a break this week from the longer take. I didn't want to rush out something for the sake of it. We will be back next week with some longer analysis, but still have some great content this week.
First time readers
Techonomics is a weekly newsletter exploring the intersection of technology, business, and the economy from an engineer's point of view. We will deep-dive into tech industry news, including niche news that may fly under the radar. Content and commentary to help make sense of the technology sector.
Check out my essays below and subscribe now:
I hope you enjoy it!
— Jake
---
My essays
Check out essays from previous weeks:
🇦🇺 Australia vs the Aggregators
📊 Software IPOs and S-1s: playing with numbers
📡 Cable Companies and the Innovator's Dilemma: Round 2
🙉 Tread not-so lightly: Antitrust & Corporate Venture Capital
🛍 CFCs, urban warehouses, and the last mile
🤖 Big Tech and Antitrust: The Capitalism Paradox
🎵 The Music Industry's Profit Journey
---
Visual of the week
❄️ Snowflake's Doubling Debut: Snowflake went public this week and ended the week at ~$240 per share, double the $120 IPO price. The original price was even lower and was previously estimated at $75 to $85 a share, increasing to an estimate of $100 to $110 a share before landing at $120. There are lots of opinions on IPOs, alternative IPO methods, and how companies can avoid the pop, but I can't imagine it's easy to price when there's an increase in SaaS share demand, retail investors flooding the market, and a pandemic happening in the background. The demand is there, but based on our analysis in 📊 Software IPOs and S-1s: playing with numbers, they still need to turn a profit.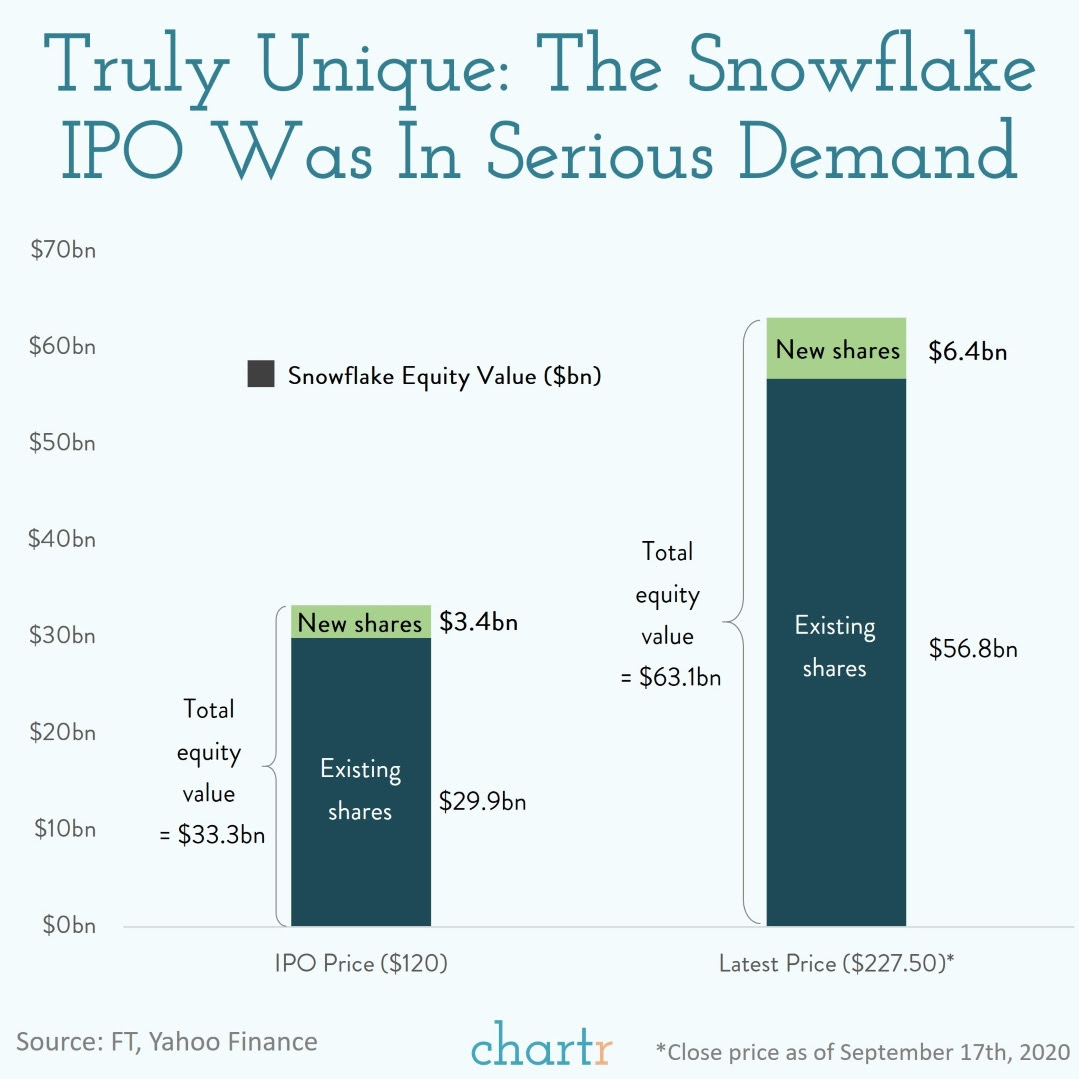 ---
Interesting reads
💌 NVIDIA + Arm, a love story: NVIDIA and Arm are sealing the deal after months of speculation around the two companies joining forces. It makes sense to me as a long-term play for NVIDIA, who designs and sells GPUs. Arm also designs chips, but for many use cases including mobile, AI, and graphics. It also licenses out it's Instruction Set Architecture (ISA) to power chipsets like Apple Silicon.  The interesting part is that NVIDIA is vertical in the way it builds and supports its GPU hardware with proprietary software whereas Arm is as horizontal as they come, with a large footprint across industry through its licensing model. Arm is important to NVIDIA because of its horizontal licenses, especially as NVIDIA eyes the cloud for more than just AI. (link)

💰 Fintech and COVID's impact: I really enjoyed Andreessen Horowitz's article Charting the COVID Effect on Fintech this week. A few points are going to hit home the topics we have been talking about in past weeks, like retail investors flooding the stock markets, interest in fractional shares, and even financing for boats. However, a few stood out from the crowd and I was both shocked and delighted to see data supporting new business interest through dropshipping, certifications, and business financing. Perhaps Marc Andreessen's dream will come true. It's amazing what you can do from your couch. (link)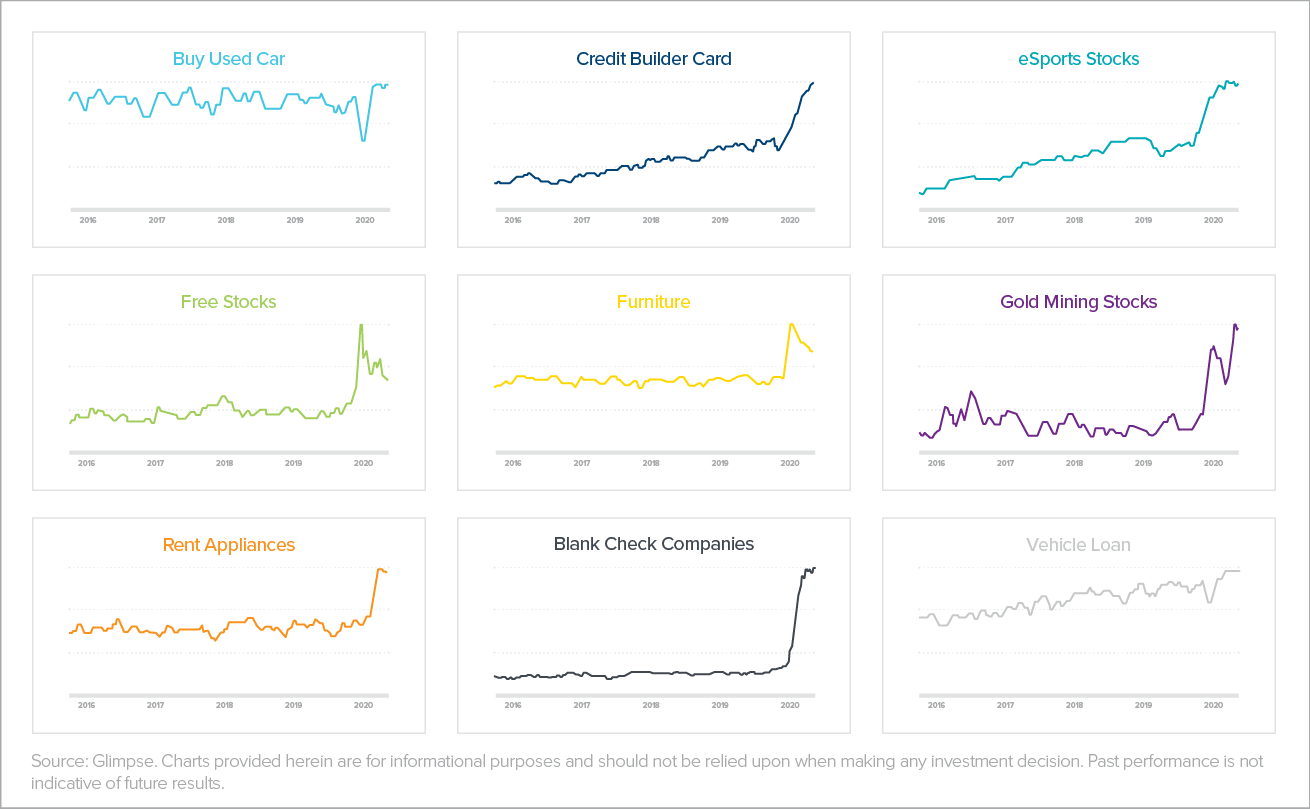 🧠 Improve your memory? The BBC published an article this week that ties together memory concepts of the Production Effect, the Generation Effect, and the Enactment Effect with a conclusion I have been wondering about for some time: if you read aloud, you'll improve your memory of the material. Why does our culture then foster silent reading? It's not as fast. (link)
🕹 Retail control: Typically analysts write opinions and set price targets for companies based on fundamentals of the business. Investors then read and use the knowledge from the analysts to make their investments. What if it was the other way around? Bloomberg reported a fascinating story ($) this week that ties into the power of the retail investor. Analysts are now reading online chatter of retail investors on forums like r/wallstreetbets to determine where the markets are going. Now that's a power inversion. (link $)
🐦 Twitter's prepping: Twitter has made a few moves recently that are worth calling out. First, it is setting up an election hub with verified news and stories to educate voters on the process. Second, it's tightening security for political candidates ahead of the election. Third, it addressed worries about contested election results if it so happens in 2020. It's good to see Twitter taking steps to enable a smooth election and head off any issues. The election hub is going to be more hotly contested as a more formal extension of their moves to flag misinformation. Can they do this in an unbiased fashion?
👿 TikTok Drama is bigger than TikTok: I haven't written about TikTok even though I have a lot of feelings on the matter. Why? Because it's damn near impossible to keep up with, includes more companies than just TikTok, and has massive implications for technology, eastern/western ideals, capitalism, and government intervention. That was a mouthful, and I am still gathering my thoughts, but it's important to be informed. Here's a quick list of articles from this week I think are worth reading about TikTok, US, and China:
---
Bites
👩‍💻 Remote-first lessons from a remote-first company: GitLab, one of the leading companies in making remote working work, has an e-book called the Remote Playbook. If you have questions on how to make your company work better during forced WFH, this is a great starting point. (link)
🖲 Hardware easing: Software has taken over the world, and it's easier than ever to get started and with near-zero cost. Hardware on the other hand has high upfront costs, large complexity, and lower margins. On top of that, it's complicated to design and manufacture. What if it wasn't? (link)
💨 Venus life: Venus has a sign of life, and it might be in the clouds. Scientists have found a significant marker: Phosphorous. (life)
🤑 $88 Trillion, Visualized: What does the world look like split by GDP? (link)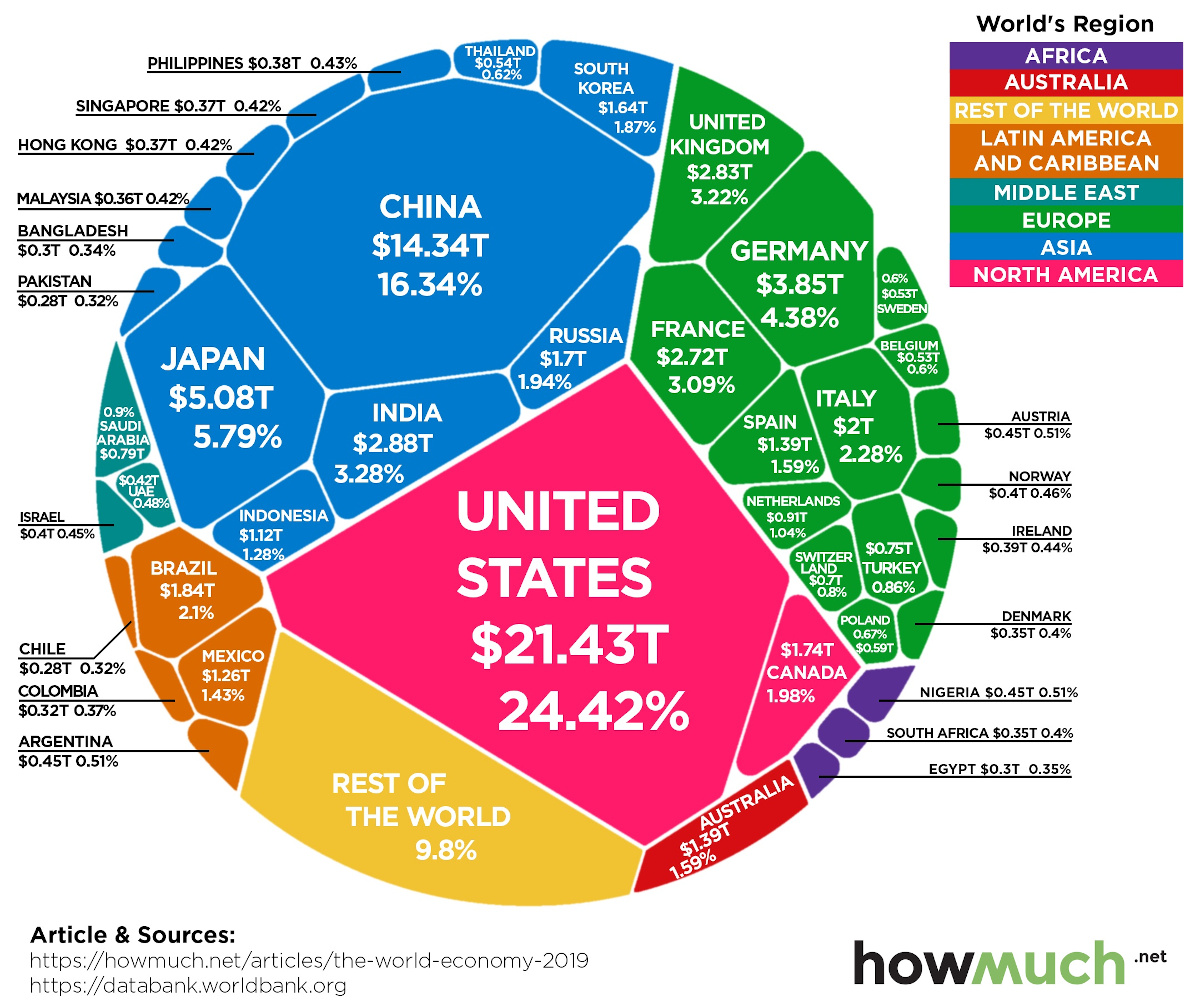 🗒 Second mind: Roam is a note taking tool I have been hearing a lot about. It lets you organize your research as a graph, enabling a mind-map as your second brain. The learning curve is steep, but I have heard good things. (link)
---
Follow-ups
🛒 Amazon v. Walmart: Walmart+, Amazon Prime, 2-day delivery, drones, same-day delivery… and the list goes on. The one place that's going to separate Amazon and Walmart isn't the packaging of offerings, but CFCs, urban warehouses, and the last mile. How close can Amazon and Walmart get to their customers? (link $)
See you next week!
---
Disclaimer (full)
Views expressed in "content" (including posts, podcasts, videos) linked to or created in this newsletter, website, posts, or posted in social media and other platforms (collectively, "content distribution outlets") are my own and are not the views of any person, company, or entity I am affiliated with or each entities' respective affiliates. The content is not directed to any investors or potential investors, and does not constitute an offer to sell -- or a solicitation of an offer to buy -- any securities, and may not be used or relied upon in evaluating the merits of any investment.